Sales CRM Software For Small Businesses – Advantages and Challenges
In this modern world, chances are you must have at least heard of Cloud Computing, if not used it unknowingly. Cloud Computing is often referred to as internet-based computing, as the user can access their data anywhere, anytime, with internet access, instead of their computer's hard drive. A few examples of Cloud Computing are Amazon Web Services, Microsoft Azure, Google Cloud, Salesforce, and such applications. But what exactly are cloud computing resources? While the examples gave you some idea of what they do, Do you not wish to understand what else they offer, their characteristics that are considered essential?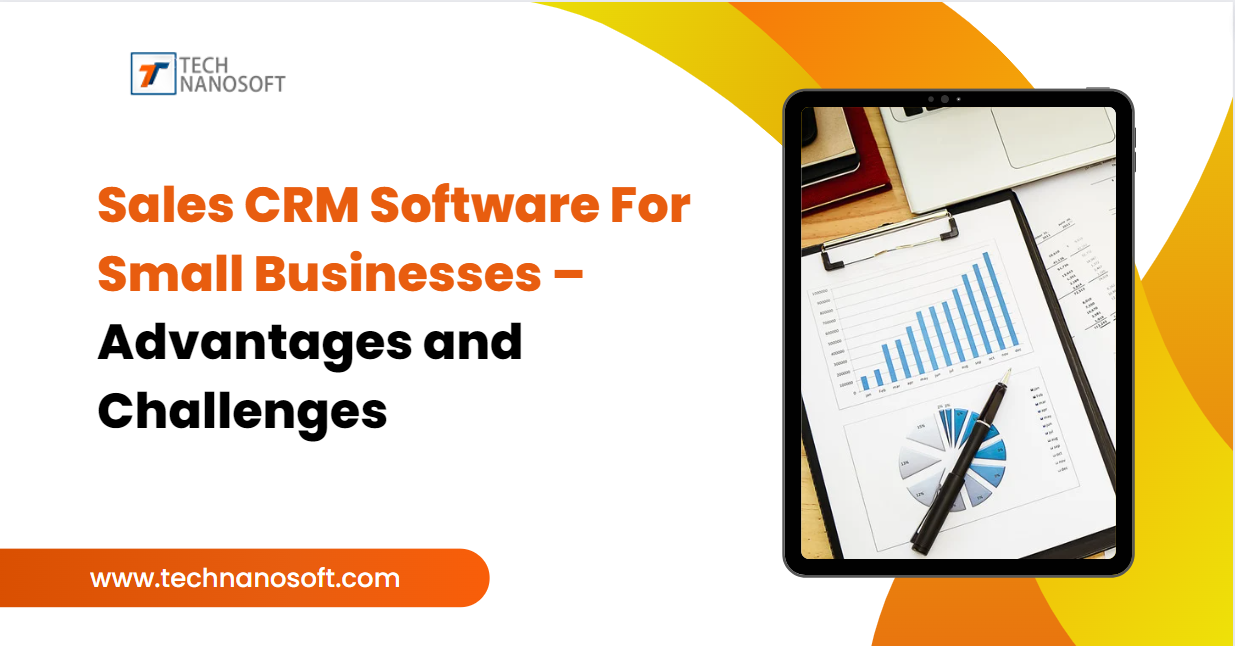 Introduction
Small and medium-sized businesses may struggle to adopt Sales CRM software into their operations. However, there is a range of software specifically designed for this purpose. It is to consider the advantages and disadvantages of each option before making a decision. Fortunately, this makes it straightforward to select the ideal software.
What is a Sales CRM?
A sales CRM is a software application designed to help salespeople in the field. It manages leads and contacts in business-to-business (B2B) and business-to-consumer (B2C) settings. Modern businesses rely on software to help them do their job better, so you should use professionally.
sales management software for small business. Despite the many advantages of this tool, some associated challenges may impede success.
Small businesses can reap considerable benefits from implementing sales CRM marketing software. Such a system can aid in tracking customer, client, and prospect data and make sales processes more streamlined and productive. Investing in business management system is beneficial for small businesses. Considering the advantages of using a CRM before making any decisions is essential.
Benefits of Sales CRM Software for Small Businesses
Such sales software is a powerful tool to help you grow your sales and marketing. The CRM system is a software solution that helps you manage your business more effectively and efficiently. It allows you to track all the activities of all your customers in one place. For example, it can be used for customer relationship management, customer retention, lead generation, sales execution, and marketing automation.
CRM solution helps small businesses better manage their sales, marketing, and customer relationships. It helps them to organize their day-to-day activities, manage activity schedules, track leads and monitor customer beha,vior. The followingsbehavioradvantages and challenges of CRM Software:
1. Organize Sales Activities
CRM allows you to organize your sales activities in one place. You can create different sales campaigns based on product features or price ranges. You can also create lists for different products, customers, or regions.
2. Track Leads
With CRM, you can easily track leads from initial contact to final sale. The software will provide information about each lead, such as source and contact details. You can quickly identify active leads by looking at the status column in your CRM software dashboard.
3. Monitor Customer Behavior
CRM can monitor customer behavior, including buying patterns and purchase frequency. This data can help you understand what customers like and dislike about your products or services. Giving customers personalized attention based on their preferences and needs can help improve your business performance.
4. Boosts Sales
CRM technology can give businesses an advantage to help them customize their offerings to meet customer needs, making them more desirable. It also allows businesses to monitor customer responses to their marketing campaigns and determine if further follow-up is necessary.
5. Helps In Managing Customer Data
The first benefit of using sales CRM software is that it helps you manage customer data efficiently. You can track all your customers' details, like contact information and past order, making it easy to reach out to them. It also helps you manage leads effectively to get more sales leads and convert them into customers quickly.
6. Improved Efficiency
With sales force automation in CRM, you can automate tasks like sending personal emails to prospects or scheduling appointments. It means you will have more time to focus on essential tasks like closing deals or finding new customers.
7. Better Collaboration
Salespeople don't work in isolation; they collaborate with other marketing and customer service teams. A sales CRM system provides access to the same information for all users. It allows people to work together efficiently from the start of lead generation to the end of deal closure.
CRM is known to be able to help businesses manage their sales and marketing. Well-known vendors include Sage, NetSuite, and Oracle. Oracle has become the best CRM software for small businesses in a short time. It offers technology that makes managing sales, marketing, and lead management easy and can impact business growth.
Sales CRM software is a solution that can help companies increase productivity and manage customer relationships more effectively. It does this through Customer Relationship Management (CRM) tools. The system monitors and analyzes customer interactions, enabling you to track their movements. You can also make sure the collected information is accurate.
Critical Challenges Faced in CRM Implementation
Sales management software for small businesses has many advantages. However, there are some difficulties to overcome when implementing this system. Here are a few challenges that may encounter with sales CRM software:
1. Cost: Implementing marketing CRM can be costly, especially for small businesses with limited budgets. They may have to invest in software licenses, hardware, and training to implement the software effectively.
2. Complexity: Small business management software can be complex, and business owners and employees may find learning and using the system challenging, leading to resistance to adoption and decreased productivity.
3. Integration: Sales management CRM may not integrate seamlessly with other business applications and systems, making it difficult to share data and collaborate with other departments.
4. Data Quality: Business process management tools rely on accurate and up-to-date data to be effective. Small businesses may struggle to maintain accurate and consistent data, impacting the system's effectiveness.
5. Customization: Small businesses may have unique requirements and processes not supported by standard free sales management software. Therefore, customization may be necessary to meet these needs can be time-consuming and costly.
Final Word
CRM is an effective and cost-efficient business solution for small and medium businesses with large sales forces. These businesses typically have thousands of prospects or more. Following the best practices to maximize its usage and effectiveness can help you achieve optimum results. A top-rated software is one that your company will benefit from using daily to improve your overall performance.