List Of Business Problems You Can Solve With Custom CRM Development
In this modern world, chances are you must have at least heard of Cloud Computing, if not used it unknowingly. Cloud Computing is often referred to as internet-based computing, as the user can access their data anywhere, anytime, with internet access, instead of their computer's hard drive. A few examples of Cloud Computing are Amazon Web Services, Microsoft Azure, Google Cloud, Salesforce, and such applications. But what exactly are cloud computing resources? While the examples gave you some idea of what they do, Do you not wish to understand what else they offer, their characteristics that are considered essential?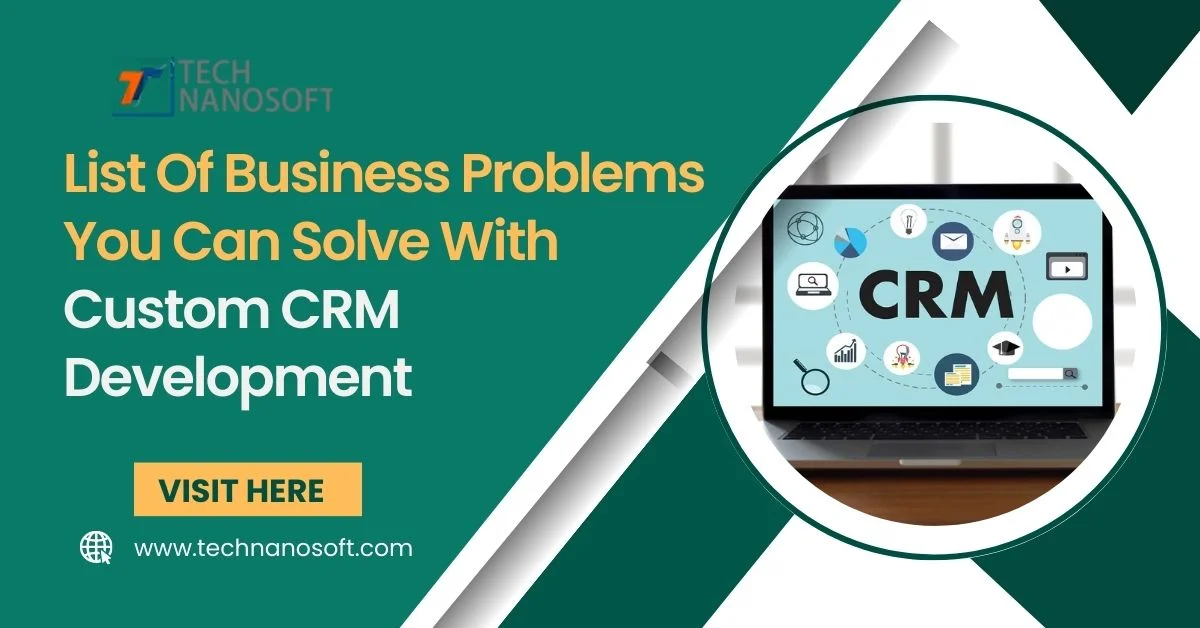 Custom CRM (Customer Relationship Management) development is a crucial step that enables companies to design a platform suited to their particular requirements and procedures. But business leaders want to know how CRM systems troubleshoot customer problems easier.

Businesses may manage and analyze client interactions and data throughout the customer journey with a CRM system, which is a vital tool. It is intended to strengthen company ties with clients, raise client retention rates, and spur revenue development. It can involve adding particular features and functionalities exclusive to the business, integrating the system with other software tools the firm already uses, and modifying the user interface to reflect the business's branding.
Additionally, designing mobile apps for sales teams, integrating the system with social media and e-commerce platforms, providing analytics dashboards and reporting, and automating repetitive operations are all examples of custom CRM development. So, if your company struggles to manage multiple business functions or wants to learn more, here are 7 critical issues the CRM system can address.

The Complete CRM Development Process

The development process is the procedures and techniques used to produce a good or service. The steps in this process can vary based on the particular project and sector, but they often include the following:

1. Planning

Defining the project's goals, objectives, requirements, and scope is part of this step. The project team is also put together at this time, and a project plan is prepare.

2. Design

During this phase, the group develops comprehensive designs and specifications for the goods or services. Creating wireframes, mockups, and prototypes is a part of this process to aid in visualizing the finished item.

3. Development

It is the phase during which the product or service is developed, and by creating the product or service, the team works to bring the designs and requirements to life. Coding, testing, and debugging are all included in this.

4. Testing

Following the CRM developer, the product or service is tested to ensure it satisfies the specifications and performs as planned. It covers both functional and usability testing.

5. Deployment

The audience for the product or service is chosen once it has been tested and any problems have been fixed. It could entail making the product available to the general public, setting it up on a client's network, or deploying it on their infrastructure.

6. Maintenance

The team continues to monitor the product or service after it has been launched and makes any necessary upgrades or improvements. It includes fixing bugs or problems and updating the software to conform to new standards or regulations.

Essential Factors to Consider While CRM Software Development Services

1. Customization

All firms have varied demands and expectations, and customization is a crucial component of CRM development services. Instead of forcing the company to conform to the software's constraints, it should be able to adapt to its particular needs.

2. Scalability

As companies expand and change, so do their requirements. It's critical to pick a CRM platform that can grow to accommodate the business's evolving requirements, whether those requirements relate to the number of users or the volume of data being managed.

3. Integration

CRM applications should be able to work with other business software and systems, including e-commerce platforms, marketing automation tools, and accounting applications. It enables smooth data transfer and efficient operations between several departments.

4. User experience

The CRM software should be simple to use and intuitive to browse. A positive user experience can encourage platform adoption and usage, producing more accurate and meaningful data.

5. Security

CRM systems handle delicate client information; therefore, it's crucial to ensure the program has strong security safeguards to protect this information. It includes safeguards like access limits, encryption, and frequent backups.

6. Data Analytics

CRM software should offer data analytics features that will assist businesses in assessing the data and making data-based decisions. Making strategic judgments and forecasting can both benefit from this.

How We Can Plan Effective Customer Relationship Management Strategy

A CRM strategy outlines how a company controls and enhances customer relationships. Increased customer satisfaction and loyalty can result in more sales and money, which is the aim of a CRM system strategy.

1. Data management

Compiling and organizing client data is the first stage in developing a CRM strategy. Having current and accurate data is essential for managing client interactions successfully. Contact information, buying history, and communication preferences are examples of this data.

2. Segmentation

After the information has been gathered, it can divide clients into several groups according to demographics, behaviour, or other factors. It enables firms to customize client interactions based on their unique requirements and preferences.

3. Personalization

Techniques for tailoring consumer interactions should be part of a CRM strategy. It might involve specialized offerings, focused marketing strategies, and customized communication. It is a continuous procedure rather than a one-time undertaking.

4. Automation

The customer relationship management process can be more efficient by automating repetitive operations and procedures. Automation of email campaigns, appointment reminders, and follow-up calls are a few examples of this.

5. Analytics

Analytics should use in a CRM strategy to evaluate customer interactions and pinpoint areas for development. This can assist organizations in determining the most successful marketing strategies, the most well-liked goods, and the most popular customer care channels.

6. Collaboration

Various teams and departments within the organization should work together to develop a CRM strategy. It will make it easier to guarantee that all client interactions are uniform and that all customer information is current.

Top Issues that Custom CRM Development Can Address

Businesses can handle a range of issues with the use of a custom CRM solution and effective CRM development services, including:

1. Lack of customer understanding

A customized CRM can offer companies a centralized database of customer data, including demographics, purchase histories, and communication histories. This information can help companies better understand their customers and adjust their marketing and sales strategies accordingly.

2. Unorganized sales process

A custom CRM can help firms optimize their sales process and boost productivity by automating lead tracking, forecasting, and reporting operations.

3. Poor customer service

By providing a centralized system for tracking client interactions and requests and self-service alternatives via portals or chatbots, a custom CRM can assist firms in providing better customer support. A personalized CRM may help organizations respond to client needs more rapidly by delivering real-time data and notifications, which can help them quickly detect and address consumer concerns.

4. Difficulty in tracking marketing ROI

CRM can assist firms in analyzing their marketing initiatives' return on investment (ROI) by offering tools for evaluating the success of campaigns and determining the most successful marketing strategies.

5. Scalability

By offering a flexible and adaptable platform that can adapt to the changing needs of the organization, a custom CRM may help firms expand.

6. Limited data analysis skills

A custom CRM can help firms learn essential insights about customer behaviour and trends by offering sophisticated analytics and reporting capabilities.

7. Ineffective consumer data management

By offering a consolidated database that is simple for numerous personnel to access and update, a custom CRM can aid firms in managing customer data more effectively.

Special Features Required in the CRM Software.

Many elements are commonly included in CRM (customer relationship management) applications to assist organizations in managing consumer relationships. The following are some of the most typical functions present in a CRM application:

1. Contact management

Contact management is a function that enables companies to keep track of and organize customer information, including contact details, demographics, and past purchases.

2. Sales management

With the help of this tool, companies may monitor and control sales leads, opportunities, and deals and tools for forecasting and reporting on sales performance.

3. Marketing automation

This function enables companies to automate marketing activities, including social media posts, email campaigns, and ad targeting.

4. Customer service and support

With the help of this feature, companies may keep track of and handle user service and support requests, monitor customer interactions, and offer self-service options via portals or chatbots.

5. Analytics and Reporting

This feature enables companies to monitor essential performance indicators and gain knowledge of consumer trends and behaviour.

6. Mobile compatibility

This feature makes it easier and more convenient for businesses to access CRM data and functionality from their mobile devices.

7. Integrations

With the help of this function, companies may link their CRM program to other applications and platforms they use, like email, a calendar, or accounting software.

9. Customization
With the help of this function, organizations may adapt the CRM software to their particular requirements and work processes. An effective tool can help firms manage their client interactions more successfully, raise sales and revenue, increase customer satisfaction, and offer helpful decision-making information.
Final Word
Many options are available if you have business problems that can be solved with custom CRM development, including developing your system, using an agency, or consulting a company. The best way to find the right solution for your business needs is to speak with a professional with experience in this area. Also read Sales CRM Software For Small Businesses – Advantages and Challenges