Most Popular IoT Services That Will Revolutionize Marketing
In this modern world, chances are you must have at least heard of Cloud Computing, if not used it unknowingly. Cloud Computing is often referred to as internet-based computing, as the user can access their data anywhere, anytime, with internet access, instead of their computer's hard drive. A few examples of Cloud Computing are Amazon Web Services, Microsoft Azure, Google Cloud, Salesforce, and such applications. But what exactly are cloud computing resources? While the examples gave you some idea of what they do, Do you not wish to understand what else they offer, their characteristics that are considered essential?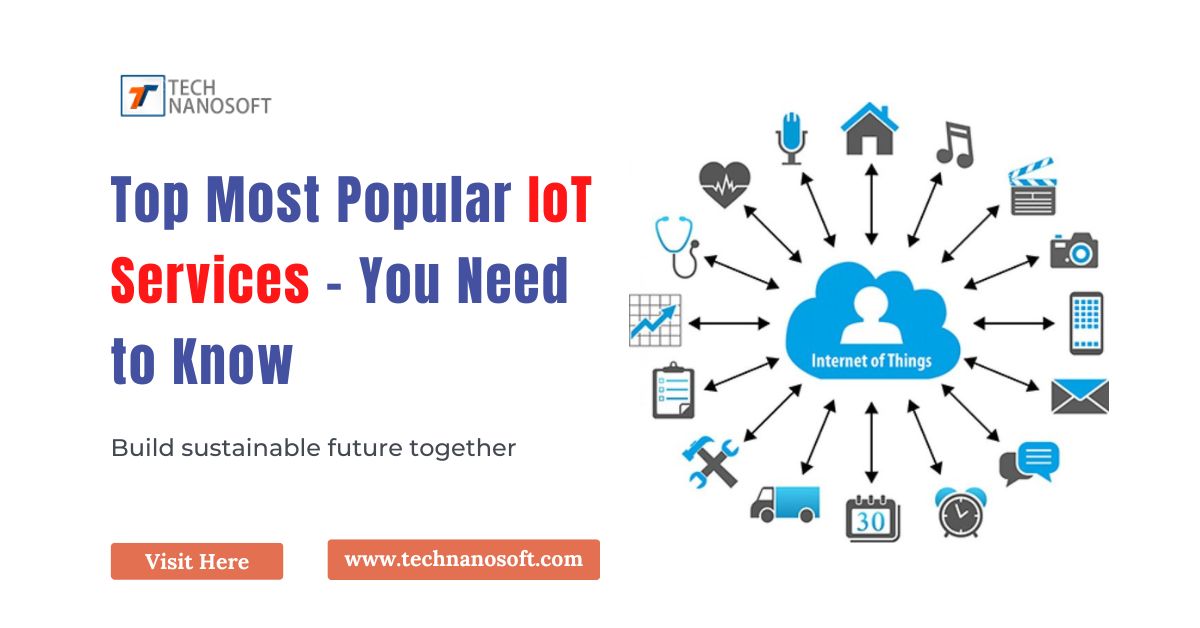 What Are The (Internet of Things) IoT Services?
The Internet of Things (IoT) is a network of devices connected to facilitate communication with each other. These help to share information that can be used as input by any device without much human intervention. IoT services provide a platform for interacting and collaborating, involving mechanical devices, sensors, home appliances, vehicles, desktops, mobile devices, and laptops.
Various industries are using Iot solutions to facilitate medical treatment, Remote Control, Enhance Light Experience, and many more sectors.
What Are Examples of Industrial IoT Services?
The Industrial Internet of things is supposed to make devices light up by enhancing efficiency. Various Industries and domains have leveraged this technology to complete the task easier. IoT Applications are connectes with:
1. Healthcare: Healthcare users have been a significant thing of IoT applications developed using managed IoT services that help the patient during treatment. It tracks wheelchairs, nebulizers, oxygen, and other monitoring equipment with IoT devices and medical equipment. For instance, a Cardiac monitor keeps patients in contact with their physicians by sending notifications of cardiac events.
2. Remote Control: The Internet of Things allows us to control devices far away. These devices can receive input from other devices connected through the Internet. IoT services allow users to do multiple activities easily, like activating lights, controlling air conditioners' temperature, and providing guests access.
3. Sensors: For years, consumers have been using IoT devices to deliver services like motion sensors, such as watches, for fitness tracking. Bright lighting uses sensors and bulbs that connect to IoT, allowing them to control by smartphones or other devices. The Internet of Things will progress to a level where lights can turn on and off autonomously.
4. Detecting Machine Failure: As the sensors are electronic components, they often fail suddenly and stop working without indicating degrading performance. Using IoT, a system could develop that can detect the failure in the machines. Vehicle owners can identify which parts need care, avoiding breakdowns and potentially fatal accidents.
5. Smart Cities and Homes: Smart cities are another platform that uses IoT applications, like automated transport, energy management, environmental monitoring, etc. Many services, such as efficient lights, weather reporting systems, and streetlights, will be embedded with IoT services for continuous. Smart homes are the revolution in the technological world. The advantage here is that one can control the related devices remotely using a web interface or a simple mobile application.
6. Integration With AI Application: Artificial intelligence unlocks the true potential of IoT by enabling networks and devices. It helps to learn from past decisions, predict future activity, and improve decision-making abilities. Tesla's self-driving cars are the best example of IoT and AI working together.
7. A Personalized Experience: IoT and personalization are intertwined; one collects data, while the other allows brands to build customer relationships. For instance, IoT devices can use geolocation to show nearby locations, monitor patient health, and send alerts to doctors. The user experience is made simpler by the implementation of IoT development.
Wind- Up
These are the top most popular IoT services you need to know about to succeed in modern society. These services can help you build interrelated infrastructure and applications to measure and share data quickly and easily. Utilizing the highest quality IoT implementation services can enable you to comprehend your surroundings better, leading to more informed decisions.