Best Nonprofit CRM Software - Stick With Your Out-dated CRM Program
In this modern world, chances are you must have at least heard of Cloud Computing, if not used it unknowingly. Cloud Computing is often referred to as internet-based computing, as the user can access their data anywhere, anytime, with internet access, instead of their computer's hard drive. A few examples of Cloud Computing are Amazon Web Services, Microsoft Azure, Google Cloud, Salesforce, and such applications. But what exactly are cloud computing resources? While the examples gave you some idea of what they do, Do you not wish to understand what else they offer, their characteristics that are considered essential?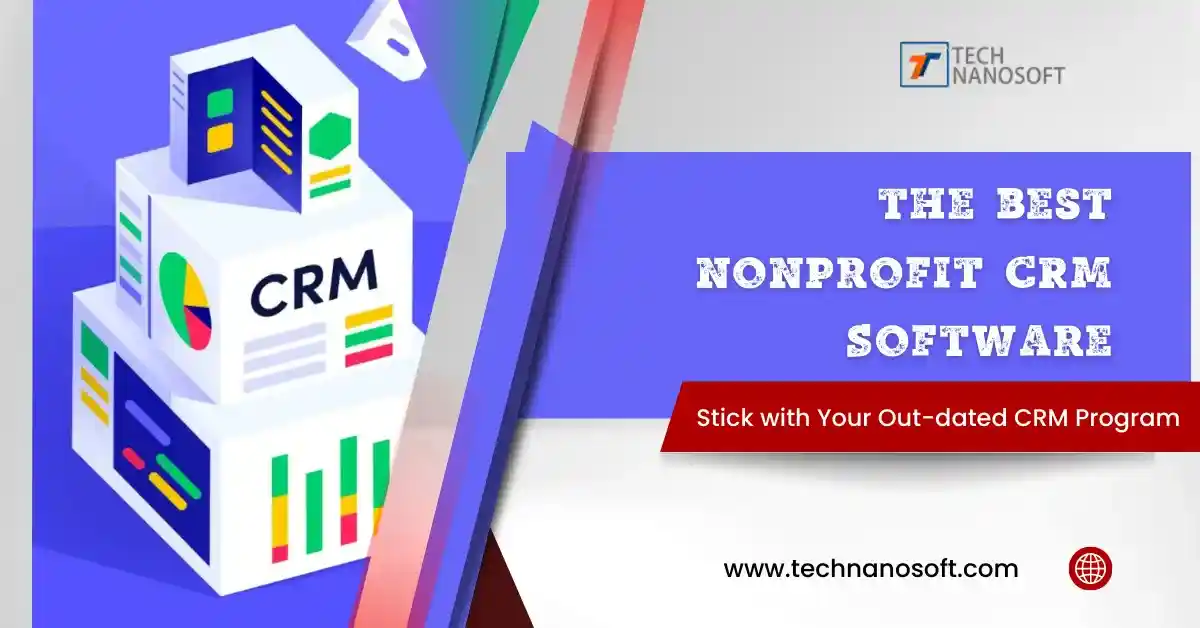 As a nonprofit organization, the key focus is to perform good work for the community and accomplish your mission. However, to achieve your objectives, you must also manage your resources efficiently. And that counts managing your relationships with volunteers, donors, and other stakeholders where nonprofit CRM software comes in.

A high-quality and good CRM for nonprofits can assist you to keep managing fundraising campaigns, tracking donor information, and automating multiple administrative jobs. However, with so many options accessible, it can be overwhelming to pick the right one for your company. And if you already have an outdated QuickBooks for nonprofits and Customer Relationship Management (CRM) program, you may be hesitant to switch to a newer one.
What is a Nonprofit CRM?

CRM is an acronym for customer relationship management – you might also hear it called AMS (association management software). CRM or nonprofit accounting software assists distinct organizations, like parent-teacher organizations and nonprofits, in keeping track of their members. But what does that mean?

Nonprofit CRM solutions assist companies in attracting and retaining members who wish to support the organization through volunteer work or finances. This software is chiefly used by nonprofit staff responsible for outreach, PR, marketing, or fundraising. Managers use nonprofit customer relationship management to track the competence of their marketing efforts & to estimate the engagement of their members in several actions (fundraising, events, etc.).
Why is Nonprofit CRM software valued?

Customer relationship management software helps manage nonprofit organizations to:

1. Locate all relevant/ pertinent information in one centralized location.
2. Measure the efficiency of promotional efforts through data insights.
3. Attract & retain persons who are willing to volunteer or contribute financially to the group by streamlining or organizing communication & easing relationship building.
4. Track donations via a solid donor management system that manages/ organizes data, identifies trends & makes suitable recommendations for building donor relationships.
5. Determine the participant's engagement in specific events.
6. Collaborate with distinct tech systems for nonprofit organizations like grant fundraising or administration.
Best Nonprofit CRM Platforms

Personify360- If you are a big nonprofit, Personify360 might be the customer relationship management for you. With tons of customization accessible, this gives you extra concentration on your mission whilst those who matter most to your company are valued.

Salesforce for Nonprofits - Salesforce is the most preferred and well-known customer relationship management used by some big giants, counting Best Buy. With main clients like that, you might be wary of the cost tag. The great news is: Salesforce is free for nonprofit institutions!

Pipedrive- Pipedrive can assist to manage and engage with donors, supporters, and volunteers from one place with Pipedrive's customer relationship management software for non-profit institutions.

EveryAction-EveryAction is now Bonterra. Learn extra at www.bonterratech.com. EveryAction offers donor management software, fundraising software, and customer relationship management software to nonprofit organizations, providing a platform spanning the digital, fundraising, and organizing requirements of nonprofits.

NetSuite- As the world's no. 1 cloud ERP solution for 20 yrs. or more, NetSuite has helped businesses gain the agility, visibility, and control to build & develop a successful business.

MemberClicks- MemberClicks is a cloud-centric software that assists associations ease their member management by managing every single thing in one place, serving nonprofits for 20 or more years. One standout trait it has is the capacity to automate member applications and due renewals, making it simpler to keep membership retention higher within any organization.

Kindful- This is a donor management platform with built-in fundraising tools. The Kindful mission is to offer nonprofit employees robust software to assist them to organize their information and manage their donors perfectly, so they can make a huge influence on the world.

Wild Apricot- Wild Apricot is a cloud-centric software that lets you automate and ease the daily jobs linked with membership management. Whilst the software assists with membership management, it also has traits that comprise site builders & event management.

Boomerang- It is a donor database trusted by 1000s of nonprofit organizations. One standout trait of Boomerang is the "generosity score". This incredible trait uses publicly obtainable philanthropic screening info to identify the high prospects in your database. You can emphasize efforts on folks who can make huge donations.

DonorPerfect- DonorPerfect permits your expert team to raise more money, work together, & nurture relationships that keep your goal moving forward.

Let's explore why you should stick with your outdated customer relationship management program and the reasons why updating to a newer one may not be the better option for your organization.

The Benefit of CRM in Nonprofit Organizations?
First, let us consider the profits of nonprofit CRM software. A good customer relationship management software can help you:

1. Manage donor information: You can monitor and track donor contact information and manage history and communication preferences in one place.

2. Segment your donor database: You can divide your database based on numerous criteria, such as donor type, giving history, and communication preferences, to generate targeted fundraising campaigns.

3 Automate administrative tasks: Customer relationship management software can assist you in automating jobs like tracking fundraising progress, sending thank-you emails, and generating tax receipts.

4. Measure your impact: You can also analyze and track your fundraising progress to know your organization's influence & make data-centric decisions.

Let's explore and talk about why sticking with your old or traditional CRM program is a better option than upgrading to the newest one.
5. Compatibility: If your company uses other software programs, such as email marketing or accounting software for nonprofits, your current customer relationship management program may be combined. Upgrading to the newest software can require different integrations, which can be expensive and time-consuming.

6. Familiarity: If you have been using your present CRM software for an extended time, your employees might be familiar with its functionality and features. Upgrading to the newest software can confuse and disrupt your workflow, resulting in inefficiencies and errors.

7. Cost: Upgrading to new nonprofit CRM solutions can be expensive. You may have to pay for licenses, training, and implementation. If your organization is small or has a limited budget, sticking with your outdated CRM program may be more feasible.

8. Customization: Your current customer relationship management software might have been custom to meet your organization's exceptional needs. Upgrading might require customization, which can be arduous.

9. Data migration: If you update to a new version of nonprofit CRM software, you must migrate your info from your current program. It can be an intricate procedure, and there is a threat of corrupting data or losing it during the migration.

10. Support: As using the present customer relationship management (CRM) program for a long time and forming a relationship with the vendor's support team, it would be difficult to start over again with a new support team, which can be frustrating.
Final Verdicts

Best nonprofit CRM software can be essential to maintain relationships with stakeholders and donors. However, upgrading to the newest software version might not always be the best option. If your organization has been using old CRM software for the nonprofit program for an extended period and it still meets your requirements, sticking with it might be the better choice. Consider the compatibility, costs, data migration, customization, and support when making your preference.

There are loads of nonprofit CRM options out there. With insights on the top recommendations and what to look out for, you're well on your way to seeking a nonprofit management software that's an excellent fit for your organization.