3 Reasons Why Your Business Needs to Use a CRM Development Service
In this modern world, chances are you must have at least heard of Cloud Computing, if not used it unknowingly. Cloud Computing is often referred to as internet-based computing, as the user can access their data anywhere, anytime, with internet access, instead of their computer's hard drive. A few examples of Cloud Computing are Amazon Web Services, Microsoft Azure, Google Cloud, Salesforce, and such applications. But what exactly are cloud computing resources? While the examples gave you some idea of what they do, Do you not wish to understand what else they offer, their characteristics that are considered essential?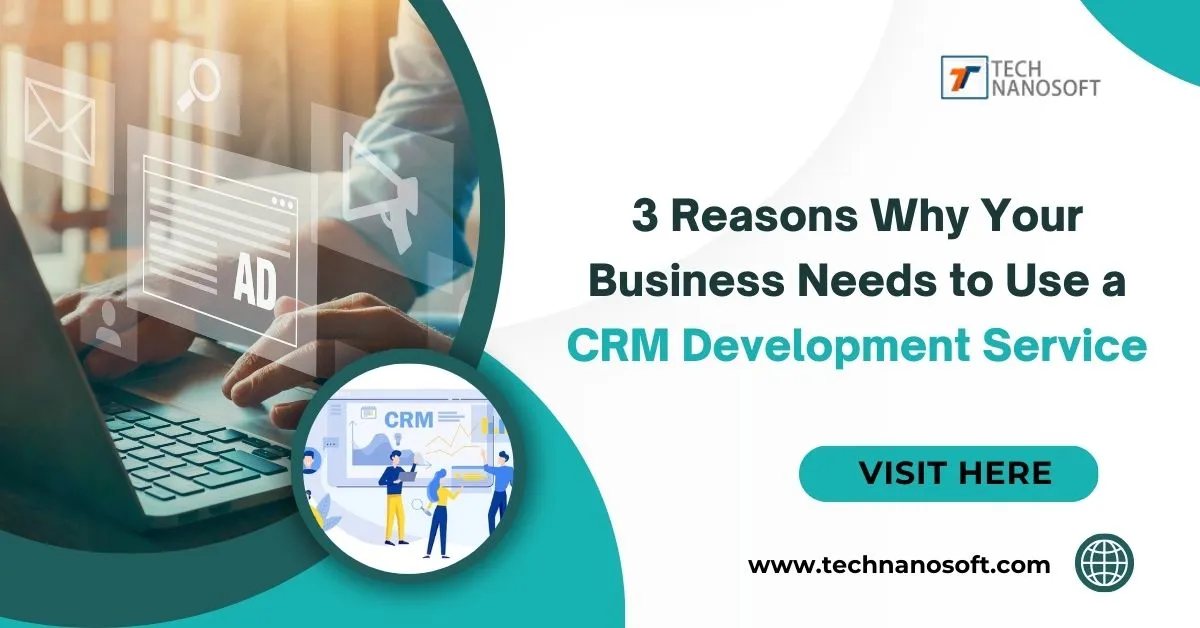 Sales Lead Management (SLM) software creates a pipeline for sales and provides individual contact information for excellent customer relationship management. The Sales Pipeline CRM software solution ensures the details of each event in the sales pipeline are captured immediately, enabling fast and accurate information.

Customer relationship management systems are essential software solutions for the modern business that organizes your data and lets you know how to allocate it while delivering steady leads to all sales channels and departments. We offer custom CRM development services, including implementation, customization, consultancy, and more.

Hundreds of CRM solutions are available today, but picking the right one for your business can be challenging. With so much choice and short product cycle times for new entrants into the market, it's essential to understand how a CRM solution can benefit your business — what problems it solves and what it will do for your marketing strategy.

What is CRM?

CRM stands for Customer Relationship Management. It is a set of applications that helps you manage customer interactions and business processes.
The main objective of CRM and the CRM process is to help companies understand, retain, and expand their business relationships with customers. It helps you keep track of your customer's needs and expectations to deliver the highest quality service possible. It also helps you identify new opportunities and retain your existing customers.

A CRM development service can help you develop a customized CRM system based on your unique business requirements. The process includes gathering all the necessary information about your organization and its goals and then developing a solution that will enable you to achieve those goals while keeping costs down and maintaining efficiency throughout the process.

With CRM software, you can also gain insight into customer behaviour and preferences by analyzing their activity history. It allows you to understand what they want from your company so that you can provide better service to them.

In most cases, CRM software helps you organize your clients' information so that it's easy to find when needed. For example, suppose you're a landscaper working with several homeowners in your area weekly. In that case, CRM will help you keep track of their contact information so that you can quickly contact them again if they require more services. You'll also be able to see when they bought their new lawnmower last year so that when it breaks down again this year (and requires repairs), you'll already know which one they bought last time.

What are the Advantages of CRM?

Custom CRM development services are an essential part of any business's success. Not only do they help you stay organized, but they also make it easier to keep track of your customers and sales leads.

Using a custom CRM development process, you can improve customer relationships by providing more personalized service. It is essential when working with large groups of customers with different needs and expectations.

The CRM implementation process can become complex if you don't have the right resources. That's why we offer CRM planning and implementation services so you can be sure we will get everything set up correctly before we go live with the system. We will also train your staff to use the system so everyone is on the same page from day one!

CRM workflow is essential to any customer relationship management project because it helps ensure all employees work together seamlessly throughout their daily tasks. The workflow consists of all tasks associated with each customer or prospect record in the system, including emails sent or received by employees or agents in this department.

1. CRM software development creates a custom CRM solution for your business. It involves gathering requirements, designing and developing the software, and testing and deploying it with your team.

2. CRM development services are necessary to set up your new system and train your team on its use. It is often part of the overall project cost but can be done separately as an aftermarket service.

3. Sales Lead management software helps you manage leads from initial contact through conversion into opportunities and clients. Sales lead management tools to help you track leads from first contact through conversion into opportunities and clients by providing tools for tracking emails, phone calls, and social media interactions with potential customers while also managing sales processes like proposals, quotes, and contracts. Some sales lead management tools also help you qualify leads based on past behaviour or other criteria so that you only follow up with those most likely to convert into sales opportunities or clients.

What are CRM 3 Reasons Your Business Needs a CRM System?
These might be the main and the most expected advantages of CRM, but there's more:

Efficient management of customer data: CRM solutions allow you to store all the relevant information about your customers in one place. It makes it easy for you to access the information whenever you need it and allows you to use it while making decisions regarding your customers.

Improved customer service: A well-designed CRM solution can help with better service levels. It allows you to easily access all the current information about your customers at any time and ensure that every customer receives personalized attention.

Better Lead Generation: With an effective lead management system, you can generate more leads for your business using different techniques, such as email or social media.

People are always surprised when they learn that we offer custom CRM development services. They assume you will stick to your software if you're a CRM provider and cannot help with other systems. But we've found that the best way to serve our clients is by being flexible and working with them to ensure they can get exactly what they need.

Our clients must be happy with their CRM implementation, so we're committed to ensuring every project succeeds. The best way to do this is by being flexible, working closely with our clients during the planning stages, and adapting our services as we go along based on their needs.

We know how important it is for businesses to have a solid sales pipeline management system. So we pride ourselves on being able to help companies get their sales Lead management up and running quickly and efficiently. We start by understanding your goals for this project, then work together with you until we've achieved them!