Unlock a World of Possibilities with Marketing Cloud for Nonprofits
In this modern world, chances are you must have at least heard of Cloud Computing, if not used it unknowingly. Cloud Computing is often referred to as internet-based computing, as the user can access their data anywhere, anytime, with internet access, instead of their computer's hard drive. A few examples of Cloud Computing are Amazon Web Services, Microsoft Azure, Google Cloud, Salesforce, and such applications. But what exactly are cloud computing resources? While the examples gave you some idea of what they do, Do you not wish to understand what else they offer, their characteristics that are considered essential?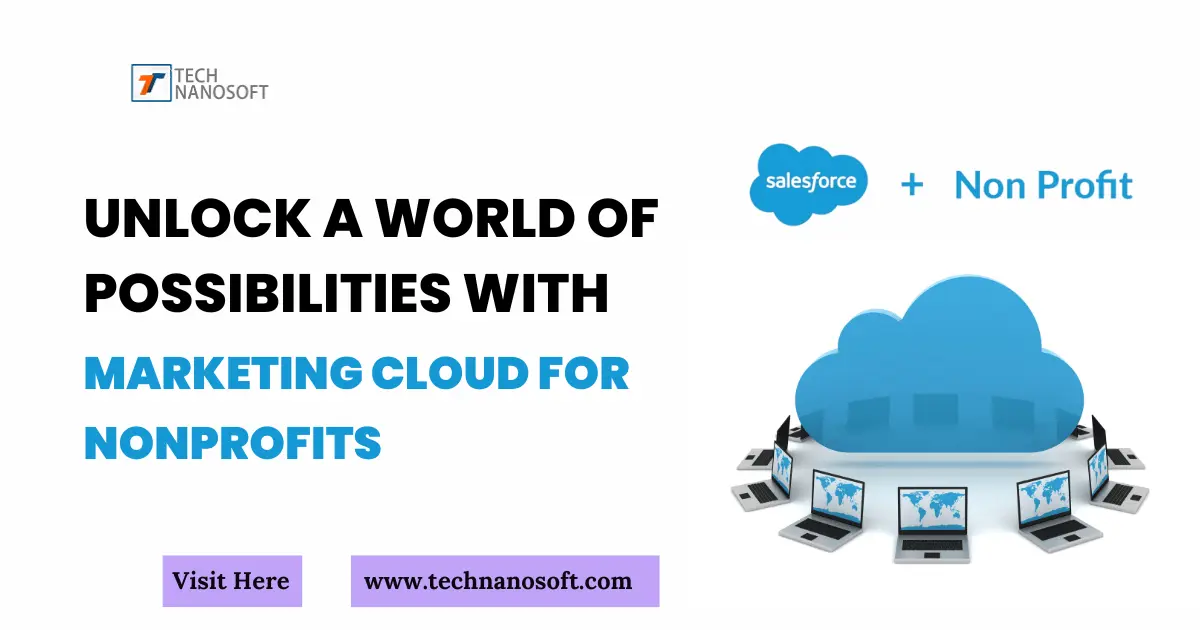 In this modern era, nonprofits face unique challenges regarding spreading awareness, engaging supporters, and driving their mission forward. That's why Salesforce introduced Marketing Cloud for Nonprofits to make it easier to interact with the public and provide a connected experience.
On the other hand, It is a robust and versatile automation platform to reach its target audience and offers a wide array of tools and features specifically designed to satisfy the needs of organizations.
What is the Marketing Cloud for Nonprofits?
Marketing Cloud for businesses is a comprehensive Customer Relationship Management platform for nonprofit organizations. It is a powerful tool that enables small business to manage their fundraising, donor relationships, programs, and volunteer management all in one place. Salesforce cloud is built on the platform, known for its scalability, flexibility, and robust features.
Organizations can streamline their operations with nonprofit Cloud in Salesforce and improve efficiency. They can track and manage donor information, including donor history, preferences, and communication interactions. This data can be used to personalize and target fundraising campaigns, increasing the chances of donor engagement and support.
Does Salesforce Work for Nonprofits?
Yes, Marketing cloud engagement for nonprofits provides a comprehensive solution through its specialized platform. This version of Salesforce is designed specifically to address nonprofit organizations' unique needs and challenges. It offers a range of features and tools that enable nonprofits to effectively manage their relationships, fundraising efforts, programs, and volunteer management.
Salesforce Marketing Cloud for nonprofits allows tracking and managing donor relationships, donations, and grants. It provided functionality for creating personalized communications and targeted fundraising campaigns. The platform also facilitates program management, tracking their initiatives' impact, managing volunteers, and collaborating with stakeholders.
What Can Salesforce Marketing Cloud Do For Nonprofits?
Marketing Cloud engagement for nonprofits offers several powerful tools that can benefit nonprofit organizations. Here are some ways to support their marketing and engagement efforts:
> Centralized Data Management: Marketing Cloud empowers nonprofits by providing a centralized hub for managing supporter data by integrating data from various sources, such as donor management systems, social media platforms, and email marketing tools. This unified data allows them to segment their audience effectively, personalize communications, and deliver targeted messages that resonate with each individual's interests and preferences.
> Personalized Communication: Business can go beyond generic mass messaging and tailor their communications to engage supporters personally. Using dynamic content, it can create highly personalized emails, landing pages, and social media ads that speak directly to the interests and motivations of each supporter. Personalization fosters a deeper connection between the nonprofit and its supporters, increasing engagement and driving meaningful action.
> Multi-Channel Marketing: Nonprofits must leverage multiple communication channels to effectively reach their diverse audience and campaigns. Whether email, social media, mobile messaging even advertising can orchestrate cohesive and consistent campaigns across various channels. Its multi-channel approach ensures their supporters wherever they are, increasing the chances of capturing attention and driving engagement.
> Marketing Automation: The salesforce marketing cloud's automation is the secret to the success of marketing that saves valuable time. Nonprofits can set up automated email journeys for businesses triggered by specific supporter actions or milestones, such as a welcome series for new donors or a re-engagement campaign for lapsed supporters. By automating repetitive tasks, we can focus on building relationships and delivering impactful programs while maintaining a consistent presence in supporters' lives.
> Analytics and Insights: Understanding the effectiveness of marketing campaigns is crucial for non-profit organizations to optimize their strategies and achieve their goals. It provides robust analytics and reporting capabilities that measure campaign performance, track key metrics, and gain actionable insights. This data-driven approach makes informed decisions, identifies trends, and refines marketing strategies to maximize their impact.
> Journey Builder: Marketing Cloud's Journey Builder is a powerful tool that allows nonprofits to create personalized, multi-step journeys for their supporters. From the first touchpoint to ongoing engagement, they can map the supporter's journey and automate interactions at every stage. Whether nurturing leads, converting supporters into donors, or cultivating long-term relationships, Journey Builder empowers to guide supporters through meaningful experiences that drive their mission forward.
> Social Media Management: Social media platforms are valuable channels for non-profits to amplify their message, connect with supporters, and enable them to manage their social media presence. It can schedule and publish posts, monitor conversations, engage with supporters, measure social media performance and build an active and engaged community online.
Final Word
In short, the Marketing Cloud for nonprofits can help maximize your organization's growth and makes the platform more efficient for your business. When you start a project, going through a discovery phase is necessary. So, this guide will help you identify your project goals and organization and describe what it takes to get there. We've created a guide to address nonprofit organizations' unique challenges that can centralize and deliver personalized data. You should also know that better way to collaborat of Salesforce and Gmail Integration.