How Can Firms Scale Up IoT Solutions Seamlessly with Robust Connectivity?
In this modern world, chances are you must have at least heard of Cloud Computing, if not used it unknowingly. Cloud Computing is often referred to as internet-based computing, as the user can access their data anywhere, anytime, with internet access, instead of their computer's hard drive. A few examples of Cloud Computing are Amazon Web Services, Microsoft Azure, Google Cloud, Salesforce, and such applications. But what exactly are cloud computing resources? While the examples gave you some idea of what they do, Do you not wish to understand what else they offer, their characteristics that are considered essential?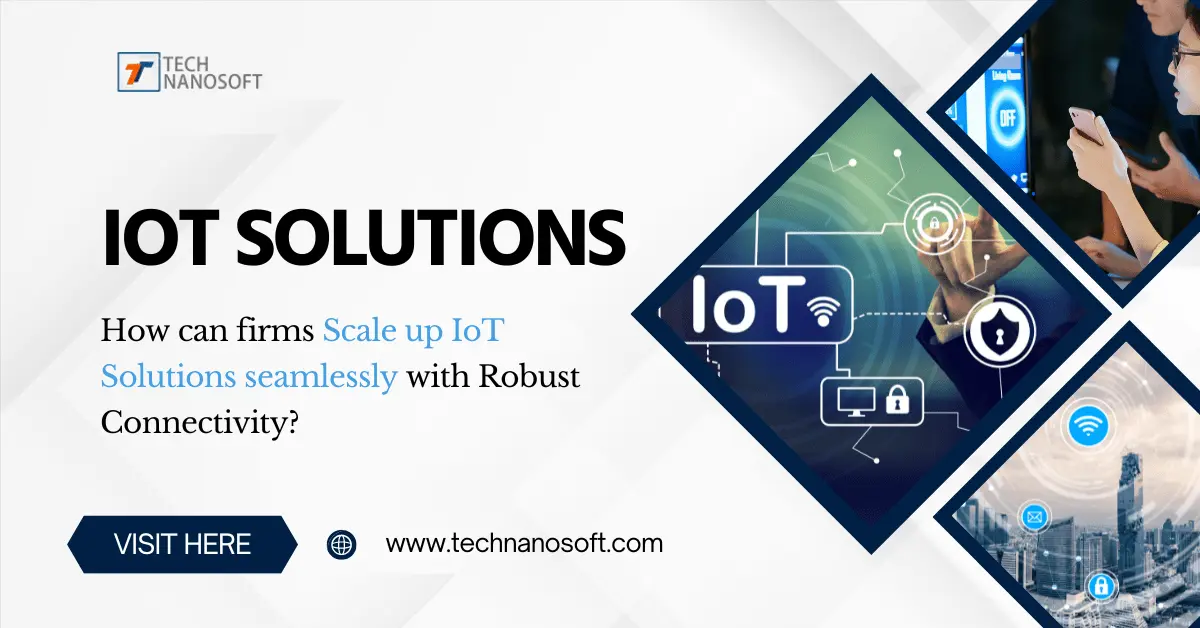 The Internet of Things (IoT) technologies have become crucial to digital transformation, enabling firms or businesses to enhance efficiency, reduce expenses, and enhance overall customer experiences. IoT applications are gaining popularity in multiple sectors, such as agriculture, healthcare, transportation, manufacturing, and energy. But, scaling up IoT solutions can be arduous or challenging, mainly when confirming robust Connectivity.
Market Snapshot
The worldwide IoT Market size concerning income or return was reasonably projected at USD 300.3 billion in 2021 and is estimated to grow to USD 650.5 billion by 2026, presenting a CAGR of 16.7%.
According to Statista, the no. of IoT (Internet of Things) devices globally is estimated to nearly triple from 9.7 billion in 2020 to more than 29 billion IoT gadgets in 2030.
Let us look at the critical challenges while accepting IoT and how robust connectivity solutions resolve those challenges. We will also examine how firms and businesses can scale up IoT Solutions Faultlessly with full Connectivity.
Understanding IoT Connectivity Challenges
The success of IoT solutions immensely relies on robust Connectivity, as IoT devices require continuous data transmission to work correctly. But, IoT connectivity poses multiple challenges that hamper the scaling of IoT solutions. Let us take a look at some of these critical challenges:
1- Assured Security
IoT devices generate enormous amounts of confidential data that must be transmitted securely. But, securing IoT connectivity can be tricky as several IoT devices lack robust security protocols, making them vulnerable to cyber-attacks.
Using end-to-end encryption from Connectivity to hardware to the cloud, GDPR and SOC II certifications, private/ public key authentication, firewall protection, open event logging framework, and more, Particle proffers the peace of mind you require to operate firmly at scale.
2- Coverage
IoT objects need robust and reliable network coverage, which can be more challenging in some areas, mainly rural or remote regions. In such ranges, the network coverage may be restricted, making it difficult to transfer data in real-time.
3- Interoperability
IoT devices come in various sizes and shapes and might utilize distinct communication protocols, making incorporating them into a flawless network tough. This can result in interoperability glitches, where different devices can't communicate with each other, obstructing the scalability of IoT solutions.
4- Latency
Latency is another major challenge in IoT connectivity, particularly for apps requiring real-time data communication. High latency can result in delays in data transmission, which can compromise the effectiveness of IoT apps.
Best Practices for Scaling up IoT Solutions
To scale up iot platforms flawlessly with robust Connectivity, firms should adopt the best approaches addressing the critical challenges of IoT connectivity. Here are some best practices for scaling up IoT solutions:
1- Conduct a Connectivity Assessment
Before scaling up IoT solutions, businesses should execute a connectivity assessment to determine the ideal connectivity solution for their IoT apps. The evaluation must consider factors like interoperability, coverage, latency, and security to choose the better connectivity option.
2- Implement Robust Security Protocols
IoT gadgets generate big confidential data, making security a crucial facet of IoT connectivity. Firms should implement robust security protocols to safeguard IoT devices and data from cyber-attacks. This counts as implementing encryption, validation, and access control mechanisms.
3- Use an Individual Connectivity Platform
Firms must use a solitary connectivity platform to manage all their Internet of Things (IoT) systems. This assists in avoiding interoperability problems and reduces the complexity of managing multiple connectivity platforms. A single connectivity platform allows firms to scale up their industrial IoT solutions flawlessly.
4- Leverage Edge Computing
Edge computing can assist in reducing bandwidth and latency necessities, making it a perfect solution for IoT apps that need real-time data transmission. Firms must leverage edge computing to enhance the scalability and performance of their IoT platform.
5- Select a Scalable Connectivity Solution
When selecting a connectivity solution, firms should choose one that can scale as their IoT apps grow. This ensures that the connectivity solution can assist the increasing number of IoT-based projects and data transmission requirements.
6- Work with Skilled and Experienced IoT Providers
Firms must work with expert IoT providers who know the challenges linked with IoT connectivity. Experienced providers can assist firms in selecting the perfect connectivity solution, implementing robust security protocols, and observing network performance.
7- Monitor Network Performance
Firms should constantly continuously examine the performance of their IoT solutions to detect and address any glitches that may arise. Reading the IoT network helps guarantee that devices communicate appropriately, data is securely transferred, and the network works optimally. Consistent performance monitoring can prevent downtime and reduce the threat of data breaches.
In other words, Scaling up IoT solutions necessitates careful planning and implementation to ensure the technology can be flawlessly integrated into the company's set-ups and operations. Firms can also follow other steps that can take to scale up their IoT solutions:
1. Define clear business goals: To scale up The Internet of Things (IoT) solutions, it is critical to have precise know-how of the business goals the technology anticipates accomplishing. This will assist the firm in concentrating on the crucial use cases and prioritizing their execution.
2. Build a robust technology foundation: The vital IoT infrastructure is critical to support the growing number of gadgets and data streams that will be created. Firms should ensure that their network infrastructure can manage the enhanced bandwidth and that their security protocols can handle the enhanced data traffic.
3. Adopt a flexible architecture: Internet of Things (IoT) architecture that is scalable and flexible can assist firms in adapting rapidly to changing business requirements. Firms must choose solutions that can be effortlessly customized and incorporated into their present systems.
4. Develop a data strategy: Scaling up IoT solutions chiefly means dealing with large amounts of data, so enterprises require a well-defined data strategy to gather, process, & analyze data efficiently. Firms must detect the data sources that are highly relevant to their business goals, & decide how they will be managed, processed, and analyzed.
5. Execute a robust analytics platform: Firms require a strong analytics platform to make sense of the data generated by the Internet of Things (IoT) devices. Such a platform could detect anomalies, real-time insights, and trigger alerts when needed.
6. Ensure compliance: Businesses should comply with IoT privacy and security challenges & solutions scale-up. Companies should have clear procedures and policies for data gathering, processing, and storage and confirm that they meet the necessities of relevant regulations like GDPR.
7. Examine and evaluate: Firms must regularly monitor and assess their IoT solutions to confirm that they meet business goals and deliver significance. Regular performance tests and analytics can assist in detecting areas for improvement and guarantee that the technology continues to meet business requirements.
In short, scaling up IoT solutions necessitates careful planning, a flexible architecture, a robust technology foundation, a well-defined data strategy, a strong analytics platform, compliance with regulations, and regular evaluation and monitoring. By following these steps, firms can successfully scale up their IoT solutions and realize the total rewards of this powerful technology.