How Google Analytics 4 Integration with Salesforce Can Skyrocket Your Sales
In this modern world, chances are you must have at least heard of Cloud Computing, if not used it unknowingly. Cloud Computing is often referred to as internet-based computing, as the user can access their data anywhere, anytime, with internet access, instead of their computer's hard drive. A few examples of Cloud Computing are Amazon Web Services, Microsoft Azure, Google Cloud, Salesforce, and such applications. But what exactly are cloud computing resources? While the examples gave you some idea of what they do, Do you not wish to understand what else they offer, their characteristics that are considered essential?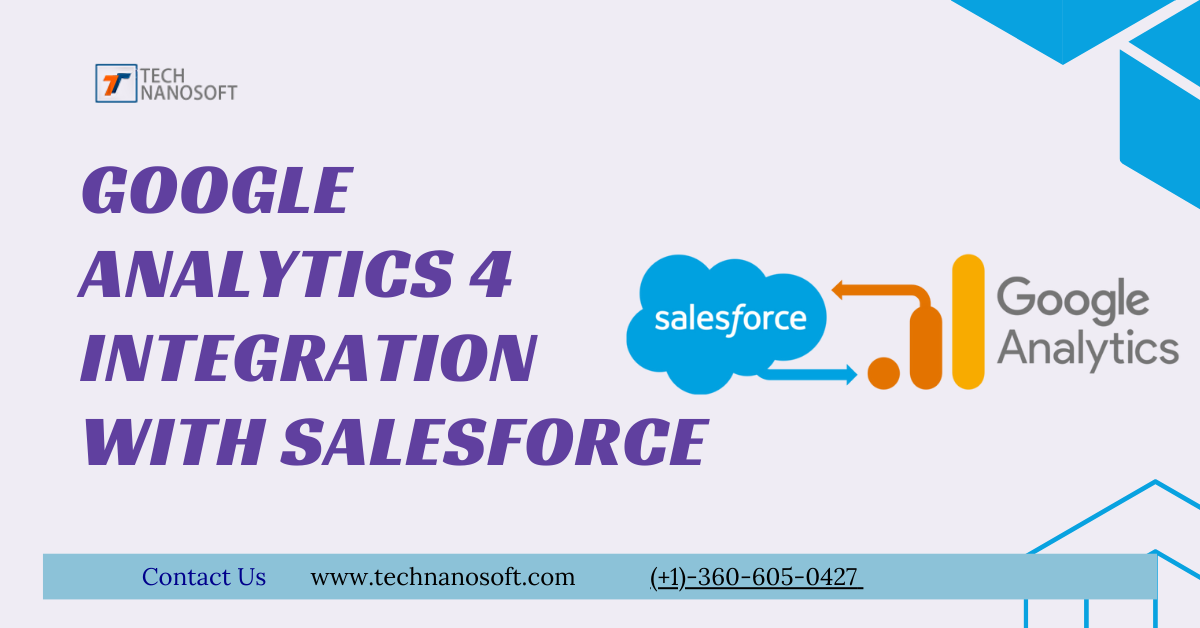 Google Analytics 4 is about to upgrade soon and will surprise you with refreshed features. GA4 provides companies with real-time insights into the customer, such as tracking user behaviour across multiple devices. This latest version of GA has powers that will significantly impact how businesses use Salesforce and SEO to drive digital marketing automation and revenue growth.
This informative article will lead you through the step-by-step process of Google Analytics 4 Integration with Salesforce and how it is better than Universal analytics.
Why is Analytics Not Working?
Do you have a question about why you can't see data in Google Analytics? This issue has been appearing in Google Analytics since March 2023. So, you must know that Google creates GA4 based on your Universal Analytics (UA) property's settings, saving users time and effort.
Some properties continue to process the data for a short time after that since Universal Analytics is closed.
Switching to the new Google Analytics 4 property will take time, requiring different data collection methods. During this transition period, users have time to update their existing properties and migrate any data they wish to keep.
So, If you manage a website or app, you need to plan and implement before june because it will stop processing after July 1, 2023.
Does Google Analytics 4 Integration With Salesforce?
The answer is yes. Google Analytics integration with the Salesforce marketing cloud to allows businesses to combine the power of GA4's advanced analytics and user-centric data. By synchronizing data between both platforms, industries can view customer interactions, track sales conversions, and optimize marketing strategies simultaneously, certifying them to make data-driven decisions and drive success.
Why is Google Analytics 4 better Than Universal analytics?
However, Google is now transitioning to a new and improved version called GA4 (Google Analytics 4). Let's read about the reasons behind it:
1. Enhanced User-centric Approach
GA4 takes a user-centric approach by focusing on individual user interactions across multiple devices and platforms, understanding the customer journey and making data-driven decisions accordingly.
2. Privacy-friendly Data Collection
Regarding user privacy, GA4 comprises privacy-centric features, such as advanced consent management tools and data controls, enabling businesses to collect data while respecting user preferences.
3. Future-proof Analytics Solution
As technology evolves rapidly, GA4 positions itself as a future-proof analytics solution. Its flexible data model allows easy integration with other Google marketing tools and emerging technologies like machine learning and artificial intelligence.
4. Cross-platform and Cross-device Tracking
Users who prefer multi-device can interact with businesses through various touchpoints, including websites, mobile apps, and offline interactions. This vast cross-platform tracking enables them to gain a unified view of their customers' engagement and optimize their marketing strategies accordingly.
5. Deeper Insights with Machine Learning
GA4 harnesses the power of machine learning to deliver more sophisticated insights that identify trends, predict customer behaviour and provide valuable insights through advanced analytics features like predictive metrics. AI-driven insights authorize businesses to make proactive decisions and drive better marketing implementation.
Salesforce and Google Analytics 4 Integration - Step by Step Guide
Step 1: Set Up Google Analytics Account and Tracking Code
> Create a Google Analytics account or use an existing one.
> Obtain the tracking code provided by Google Analytics.
> In your Salesforce account, navigate to the Setup menu and search for "Google Analytics Integration."
> Enable Google Analytics Integration and paste the tracking code into the designated field.
Step 2: Configure Google Analytics Integration in Salesforce
> Access the Salesforce Setup menu and search for "Google Analytics Settings."
> Enable Google Analytics integration by providing your account information.
> Map Google Analytics properties with Salesforce objects to synchronize data accurately.
> Configure advanced settings like goals, e-commerce tracking, and custom dimensions to align your business goals.
Step 3: Implement Enhanced E-commerce Tracking
> You will allowed e-commerce tracking in your Google Analytics account.
> Modify your website or e-commerce platform to send relevant e-commerce data to Google Analytics, such as product views, add-to-carts, and purchases.
> Ensure that your Salesforce data model aligns with the enhanced e-commerce data structure for seamless integration.
Step 4: Set Up Conversion Tracking and Goals
> Define conversion goals in Google Analytics to track important actions that lead to sales, such as form submissions or purchases.
> Configure conversion tracking within Salesforce using Google Analytics tracking codes.
> Monitor and analyze conversion data to gain insights into your sales funnel and optimize marketing campaigns.
Step 5: Leverage Google Analytics Insights for Sales Optimization
> Utilize Google Analytics reports to analyze website traffic, user behavior, and conversion funnels.
> Identify high-performing marketing channels, keywords, and landing pages that drive sales.
> Leverage these insights to optimize your sales and marketing strategies, targeting the most lucrative opportunities.
> Use Salesforce reporting and dashboards to combine Google Analytics data with your for comprehensive sales analytics.
Conclusion
At this time, I suggest doing Google Analytics 4 Integration with Salesforce, a powerful mix of analytics and customer relationship management. The new capability of GA4 can deliver seamless customer experiences, ensuring channel consistency and unlocking valuable insights. It also creates more targeted and personalized campaigns with richer data, which helps increase engagement and conversions.