What Makes a Good CRM? Check These CRM Evaluation Checklists
In this modern world, chances are you must have at least heard of Cloud Computing, if not used it unknowingly. Cloud Computing is often referred to as internet-based computing, as the user can access their data anywhere, anytime, with internet access, instead of their computer's hard drive. A few examples of Cloud Computing are Amazon Web Services, Microsoft Azure, Google Cloud, Salesforce, and such applications. But what exactly are cloud computing resources? While the examples gave you some idea of what they do, Do you not wish to understand what else they offer, their characteristics that are considered essential?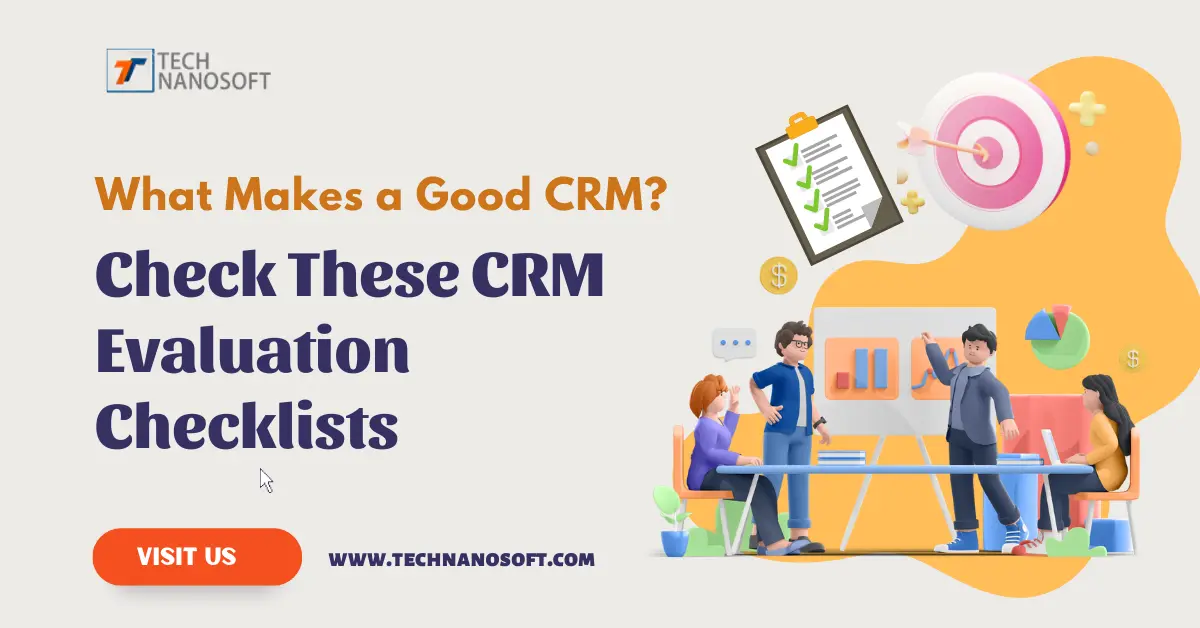 Have you ever detected the criteria for the evaluation of a ? What questions should you and your team ask yourself, and what should you address when talking to vendors? What are the features and objectives of CRM, and what is essential for your company?
We've created this helpful assessment checklist of functional and technical requirements for CRM solutions to help you define your business needs and what solutions can offer.
Question: Evaluation of Customer Relationship Management to Consider
1- What are My Business Goals and Objectives?
Before assessing a customer service relationship management solution, it is crucial to determine your business goals and what difficulties you want to solve. What outcomes do you want to accomplish? Defining your objectives will assist you in estimating based on its capability to meet your organisational requirements.
For instance, if your chief aim is to boost your sales pipeline, you must concentrate on estimating CRM solutions that proffer robust sales automation traits, like pipeline tracking, lead & opportunity management, and sales anticipating.
Defining your sales team's top primaries is the first step, and look for that to automate monotonous sales jobs. So it can concentrate on closing deals instead of being bogged down with hectic manual data entry.
Besides that, what is it highly significant for your management tool to do? When considering a Customer Relationship Management (CRM) solution program, assess sales pipeline management, data potential, storage, and present client database reporting, training, lead tracking, reporting, and marketing outreach functionality.
Team up with your whole team & solicit their input on what they deem crucial goals.
> Do you wish to increase time management abilities for your reps?
> Do you wish to validate and document your sales & delivery workflow?
> Do you wish to automate sales deals outreach?
> Do you wish to reach a specific deal close rate within a specific time?
Select various top objectives as benchmarks when you are assessing CRM systems.
2- What is the cost of implementing a Customer Relationship Management (CRM) solution?
Most customer-centric solutions charge per user, meaning the monthly subscription charge can rapidly add up to 100 dollars. Besides, it might deliver tiered plans with higher-charge packages that embrace additional traits than entry-level plans. Yet, there are various free CRM tools accessible, such as Freshworks CRM and Zoho CRM. It offers fewer traits than paid software, and they function perfectly for small and start-up.
Like HubSpot's sales CRM software, other choices allow system administrators to enable select users to access innovative traits while providing other users with basic functionality.
Yet, business owners must assess the TCO (total cost of ownership) for Customer Relationship Management (CRM) solutions and consider prices such as:
> Total yearly or monthly subscription charges.
> CRM implementation (One-time) expenses.
> Data migration charges.
> Onboarding & training fees.
> Custom and integration charges.
> Ongoing customer support fees.
> Fee reductions or volume discounts for yearly payments.
When assessing a Customer Relationship Management (CRM) solution, it is crucial to consider the upfront costs and the TCO (total cost of ownership) over the solution's lifetime. TCO (total cost of ownership) comprises not merely the software license charges, however, also hardware, execution, customisation, training, and ongoing maintenance, as well as support charges.
Hence, getting clear know-how of the vendor's charge model and how it aligns with your budget & business necessities is vital. You must also factor in the potential ROI from the Customer Relationship Management (CRM) solution, such as enhanced sales, better customer retention, and reduced operating charges.
3- What incorporations should I seek in a Customer Relationship Management (CRM) solution?
Integrating your CRM system with existing marketing and sales tools is essential to ensure seamless functionality. When different software can communicate, automating processes and updating information becomes easier.
Most CRM offers basic integrations, such as email marketing tools, while some provide an application programming interface (API) that allows users to connect custom software tools. Ask your current hardware and software vendors about integration to ensure your tools work.
Common integrations include:
> Customer support or Help desk tools.
> Business phone systems.
> Site analytics platforms.
> E-commerce platforms.
> CRM Project Management System or solution
> Point-of-sale (POS) systems.
> Team collaboration software solution.
4- What type of support do CRM vendors provide?
Customer Relationship Management vendors generally deliver restricted options for free or starting-level plans, such as email support. Furthermore, some provide customer care packages or onboarding solutions for an extra fee. Paid customer management software and upper-tier plans mainly come with 24/7 assistance and live chat.
But, unless you are migrating data loads, many Customer Relationship Management solutions or systems are simple to use and install. Look over the vendor's site for self-help resources that can be valuable to process. Popular support tools include videos, tutorials, user manuals, knowledge bases, searchable FAQs, and community forums.
When evaluating a CRM solution, it is crucial to consider the type of support that the vendor offers. Here are some factors to consider:
> Customer support: Does the vendor offer 24/7 customer support? Can you reach the vendor through phone, email, or chat? What is their average response time for customer inquiries?
> Training and onboarding: Does the vendor provide training and onboarding resources? Are there online tutorials, videos, or webinars available? Do they offer in-person training or consulting services?
> Maintenance and upgrades: Does the vendor provide regular software updates? Are upgrades included in the subscription fee, or do they require an additional fee? What is the process for implementing upgrades or patches?
> Community and resources: Does the vendor have an active online community or user forum? Are resources available such as documentation, best practices, or user guides?
> Technical support: Does the vendor have a technical support team to assist with issues or troubleshooting? Is there a dedicated support line for technical issues?
Therefore, it is crucial to comprehensively research the level and quality of support the Customer Relationship Management solution vendor offers before deciding. Good support/ assistance can ensure the success of the implementation and save you precious time and money in the long term.
5- Who Will "Own" the Customer Relationship Management?
Once you've decided on user access, you must also clarify who will "own" your CRM account. With multiple potential users accessing your system 24/7, the chance for chaos exists. You need one person responsible for your investment's success (or failure). Select anybody you trust and who has a great understanding of technology. Preferably, the candidate would also need to be an expert in these areas:
> Implementation- The implementation process of a CRM can differ significantly based on the vendor and the model selected. Some vendors have an "approved" list of consultants to help with implementation, while others offer a do-it-yourself (DIY) approach with step-by-step instructions. Regardless of the approach, it's crucial to have an internal project manager who can oversee the implementation process and ensure everything runs smoothly. They will connect the dots and ensure all parties involved with the project goals.
> Policies & Procedures- Employees come and go, and your CRM system will continue to serve your organisation for a long time. Therefore, smart companies invest in ongoing employee education and training materials, define workflows, guidelines, and expectations, and regularly update these processes.
> System Policing- To ensure the safety and security , it's important to consider potential risks, such as how you would respond if a sales rep mistakenly deleted essential customer records. Administrators should develop protocols for monitoring and preventing policy violations. After all, the data belongs to your company, and safeguarding it should be a primary concern.
> Security- Security risks must be considered, such as how often users should update their passwords and export customer data into a CSV format. Also, be aware of and proactively address other potential risks.
Conclusion
Approaching the CRM evaluation checklist thoughtfully and understanding your business requirements are important. Many vendors offer free trials, which can be beneficial. Make the most of your trial period by involving multiple stakeholders during the testing phase and make an informed decision. Ultimately, select the platform that offers the best features and scalability and helps your team to be more productive.