Get Real-Time Insight into Your Finances with Salesforce QuickBooks Integration
In this modern world, chances are you must have at least heard of Cloud Computing, if not used it unknowingly. Cloud Computing is often referred to as internet-based computing, as the user can access their data anywhere, anytime, with internet access, instead of their computer's hard drive. A few examples of Cloud Computing are Amazon Web Services, Microsoft Azure, Google Cloud, Salesforce, and such applications. But what exactly are cloud computing resources? While the examples gave you some idea of what they do, Do you not wish to understand what else they offer, their characteristics that are considered essential?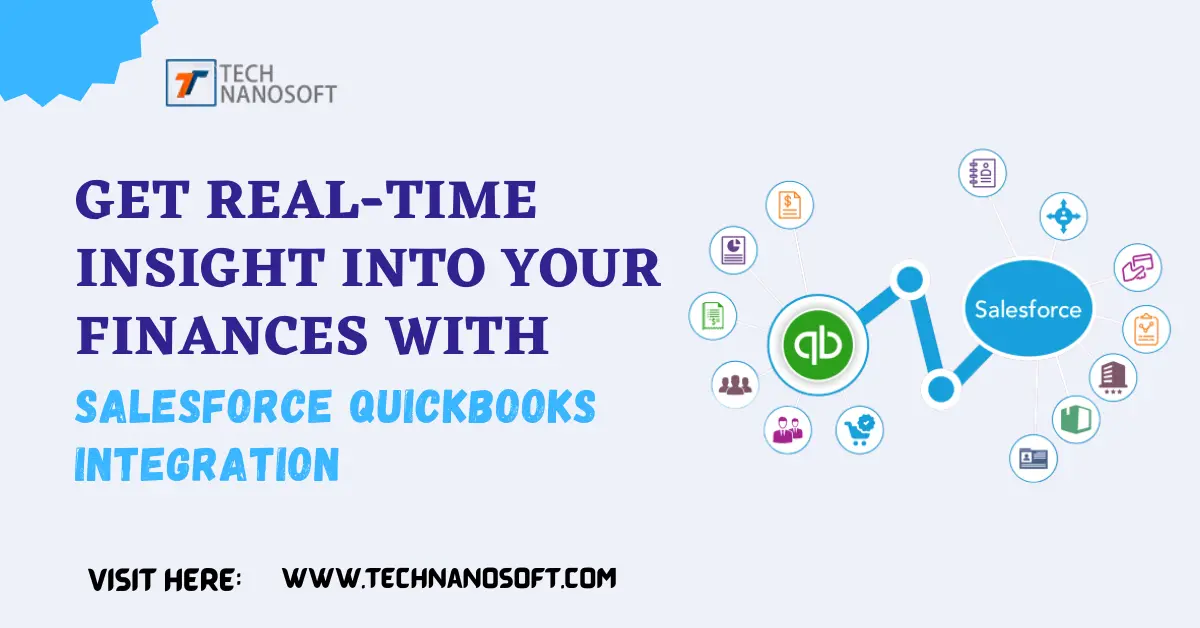 📢 Assume you use one of the QuickBooks apps for accounting and Salesforce for order and opportunity management. In that case, you probably want to connect the two, so your accounting can accurately reflect what you've sold to your customers. Integration of two platforms shows you a simple way to save time in this run-of-the-mill life.
We observe a fast-paced business atmosphere, and integrating different software tools has become necessary for optimizing workflows. Salesforce accounting software integration is a powerful way to leverage and enhance their businesses. It is a successful CRM platform, rapidly gaining popularity among any size of the firm, and is the most famous account software these days.
In this piece of writing, we will discuss about Salesforce Quickbooks Sync process and how it can provide benefits to organizations.
Does Salesforce Integrate With Quickbooks Online ?
Yes, QuickBooks Online integrate with Salesforce. This integration allows the seamless transfer of data from QuickBooks to Salesforce, eliminating manual processes, saving time, and reducing the risk of human error by automating repetitive tasks. You can exchange financial information with your sales department smoothly.
What is Salesforce QuickBooks Integration?
is the process of connecting both platform to allow data exchange between the two platforms. By synchronizing customer, sales, and financial data, firms can do away with human data entry and guarantee data consistency between systems. This connection allows the sales, customer support, and accounting teams to work together seamlessly, improving productivity and decision-making.
Benefits of Salesforce and Quickbooks Integration
Let's read what is a key advantage to using Salesforce :
1. Simplify Sales-to-Accounting Workflow: By connecting Salesforce and QuickBooks, sales teams can quickly convert opportunities into invoices or sales orders without having to manually enter any data. Eliminating the need for redundant data entry reduces errors and frees up valuable time.
Here are some steps to achieve a streamlined sales-to-accounting workflow:
> Centralize Customer Data: Keep a single customer database that both the sales and accounting departments may access. This database must include pertinent client data, including contact information, billing addresses, payment policies, and transaction history.
> Data integration between accounting and sales systems: Connect your accounting and sales software systems to ensure smooth data transfer between the two divisions. Sales orders, invoices, and payments are all automatically synchronized and updated in real-time connectivity.
> Automated Sales Order Creation: Set up a system that creates sales orders depending on the purchases of customers. This mechanism can be activated by events like getting an online order or sealing a transaction. The necessity for human data entry is removed, and the likelihood of mistakes is decreased, via automated sales order generation.
> Real-time inventory management: To ensure accurate stock levels, integrate your inventory management system with the sales process. When sales orders are received, this link provides automatic adjustments to inventory levels. Overselling is prevented through real-time inventory management, which also guarantees that the accounting team obtains the most recent data for financial reporting.
> Automated Invoicing and Billing: Implement an automated invoicing system that generates invoices based on sales orders. The system should populate customer details, item descriptions, quantities, prices, and any applicable discounts or taxes. Automated invoicing reduces manual effort and speeds up the billing process.
2. Real-time data synchronization between the two systems- It is possible by the Salesforce QuickBooks interface. As a result, sales, customer, and financial data are constantly current, offering precise insights for decision-making and improving customer experience.
3. Improved customer relationship management: With the connectivity, QuickBooks users can quickly access customer data from Salesforce, including contact details, purchase history, and unpaid bills. Better customer relationship management and personalized interactions are made possible by this full perspective of consumer information.
4. Increased Financial Visibility: By integrating Salesforce and QuickBooks, finance and accounting departments can see sales, invoices, and payments in real time. With this integration, manual data transmission is no longer necessary, mistakes are less likely, and financial reporting accuracy is increased.
Salesforce QuickBooks integration solutions offer the power to streamline operations, improve data accuracy, and boost productivity. Organizations can achieve a holistic view of their customer relationships, sales processes, and financial performance by seamlessly connecting.
Guide on How to Take Your Salesforce and Run It
With real-time data sync, automated workflows, and enhanced reporting, businesses can make informed decisions and drive growth. Salesforce QuickBooks integration empowers organizations to take their data and run with it.
👀 Take a look at the step-by-step guide on the same:
1. Recognize your demands: Determine the precise data that you wish to exchange between Salesforce and QuickBooks. Information about the client, bills, sales orders, payments, and more may be included in this. Determine which Salesforce objects and fields should be synced with QuickBooks.
2. Choose an integration solution: There are various integration options available to connect Salesforce with QuickBooks. You can use pre-built integration apps from the Salesforce App exchange or explore third-party integration tools like Zapier, Workato, or Jitterbit. Research and select the solution that best fits your needs and budget.
3. Map data fields: You must map the necessary fields between Salesforce and QuickBooks during connection setup. Map, for instance, the Salesforce opportunity amount to the QuickBooks invoice total and the Salesforce account name to the QuickBooks customer name. This guarantees data correctness and consistency during synchronization.
4. Specify the sync rules: Create rules to specify when and how data should be synchronised between Salesforce and QuickBooks. You may configure automatic synchronization to happen in response to certain criteria, modifications, or new records. Set the one-way or two-way sync direction as well as the update frequency.
5. Test and validate the integration: Thoroughly test the synchronization procedure before deploying the integration in a live environment. In Salesforce, create test records to ensure that the data is properly transmitted to QuickBooks. Make sure that during the integration, fields, connections, and business rules are kept up to date.
6. Prepare your group: Your team members who will be utilizing the integrated system should receive training. Introduce them to the new workflow, any modifications made to the data input or management procedures, and the proper way to resolve any potential problems.
7. Maintain and monitor the integration: Following the implementation of the Quickbooks and Salesforce Integration, keep an eye on the data synchronization procedure regularly. Keep an eye on any error logs or alerts that the integration solution produces. As your business demands change, periodically examine and adjust your integration settings.
You may successfully finish Salesforce Quickbooks Online Accounting by the above-given steps. A smooth data flow between the two systems can enhance your company's operations.
Conclusion
Here's a quick overview we've covered about salesforce quickbooks integration. We hope you understand the basics of use cases and how the integration works. It provides an automated process for creating and sending QuickBooks invoices from opportunities, making it easy to share financial data, review accounts, view sales touchpoints and customers, and discover opportunities.
👉: Don't let manual data entry and syncing slow down your business growth. Take advantage of Salesforce QuickBooks Integration today and streamline your processes for maximum efficiency! Act fast to eliminate this painful process and unlock the true potential of your business.