Salesforce Health Cloud: What's New in the Industry-Specific Solutions section?
In this modern world, chances are you must have at least heard of Cloud Computing, if not used it unknowingly. Cloud Computing is often referred to as internet-based computing, as the user can access their data anywhere, anytime, with internet access, instead of their computer's hard drive. A few examples of Cloud Computing are Amazon Web Services, Microsoft Azure, Google Cloud, Salesforce, and such applications. But what exactly are cloud computing resources? While the examples gave you some idea of what they do, Do you not wish to understand what else they offer, their characteristics that are considered essential?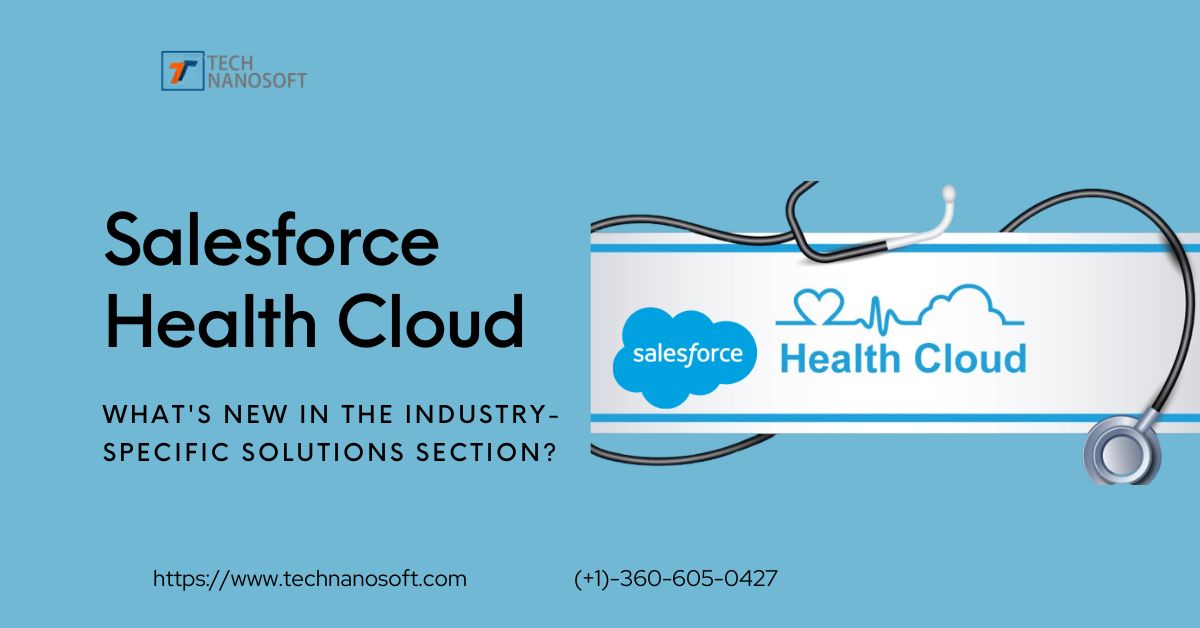 What is Salesforce Health Cloud?
When it comes to wellness, every tiny detail becomes vital for the doctor because the small habits show the most symptoms. If anyone asks my opinion on what is the most important between doctor and patient? I'll answer that it's "Trust." But trust is built through long and smooth communication between two parties.
Thus, Salesforce Health Cloud is praised highly and widely for the most comprehensive customer relationship management ever created, allowing personalized interactions, cross-team collaborations, EHR connectivity, etc.
How is Salesforce Used in Healthcare Industry?
The health cloud in Salesforce has the most seamless functioning among all other healthcare professionals. This process makes it much smoother and increases customer engagement, consisting of EHR and CRM functionalities. It enables one to unlock legacy systems, incorporate applications in the complaint, and provide a versatile platform for immediate action for a patient-centred approach to care.
Yet, at its most basic, it is a Clinically Focused Platform built on top of the salesforce managed services platform that enables procedures such as: Acquiring patients, Marketing campaigns for patients, Patient contact and engagement management, Physician recruitment and outreach, Patient surveys and evaluations, Monitoring, and administration of care plans, Risk classification of patients.
Salesforce in Healthcare Organizations - Features & Benefits
Interactions, not data, are the focus of the Health Cloud, but it monitors patient movements, detects care gaps, coordinates post-acute care, creates care plans, and scales care management.
The objectives of platforms in the medical industry are to enhance the quality, safety, and effectiveness of medical services, better include patients and families in the healing process, improve care coordination, and uphold patient confidentiality and security.
Reduced Costs: Most hospitals and the healthcare industry have forsaken the method of paper record-keeping for medical files in favor of cloud storage in healthcare. Electronic health records are maintained in the cloud and updated by doctors, nurses, and other healthcare professionals, allowing them to minimize initial expenses.
Enhanced Privacy: Setting up on-site storage necessitates an initial investment in hardware, including purchasing hard drives to store data on and additional IT infrastructure to keep that data secure and accessible at all times. "The cloud" has ensured that every healthcare practitioner has access to a data storage solution that sufficiently protects sensitive patient information.
Better Patient Care: Hospitals rely on large volumes of data, including medical records, patient registries, big data analytics, and other tools. Cloud storage makes it easy for specialists to collectively see or share a patient's medical records—the outcomes of previous interactions between different doctors and the patient received from other doctors.
Main Concept of Cloud Computing
Cloud management solutions is a case where the business outcomes of healthcare providers and patient outcomes are aligned mainly. It provides a connected, accessible, and collaborative environment for patients and clinicians. The term "cloud" describes how data centers are scattered over several places from centralized servers and are accessible to users through the Internet. Said this is a low-cost technology that possesses a variety of superpowers, including the intrinsic capacity to accurately and quickly interpret information in enormous quantities of data.
made things possible such as the generation, consumption, storage, and exchange of medical data, to innovate and improve the healthcare sector. That's one of the few reasons we use cloud computing platforms for forecasting, decision-making, and communication. It can aid in developing a complete IT infrastructure that brings together R&D facilities, hospitals, and patients in a single informational ecosystem. Many call it the "Perfect Patient Managing Software.
Conclusion
Reinvented as a healthcare CRM, Salesforce seamlessly links systems of record and enhances visibility throughout the health journey. It allows tailored interactions that deepen relationships and creates trust with customers, whether patients, members, or employees. It enables effortless scalability and adaptability, which helps the whole decision-making process by developing a single system that can gather patient data, truck fulfilment, HCP script data, and patient opt-ins. Salesforce marketing cloud healthcare has allowed biotech and pharmaceutical businesses to reduce operating expenses while providing better patient outcomes.

The above checklist may be incomplete, and specific scenarios have additional challenges based on the systems and requirements involved. But Technanosoft's Salesforce consulting services allow business owners to observe sales and marketing efforts in a single platform. So, you should know what's important for your business to make it easier for customers.