Top 10 Popular SaaS Applications to Boost Your Business Operation
In this modern world, chances are you must have at least heard of Cloud Computing, if not used it unknowingly. Cloud Computing is often referred to as internet-based computing, as the user can access their data anywhere, anytime, with internet access, instead of their computer's hard drive. A few examples of Cloud Computing are Amazon Web Services, Microsoft Azure, Google Cloud, Salesforce, and such applications. But what exactly are cloud computing resources? While the examples gave you some idea of what they do, Do you not wish to understand what else they offer, their characteristics that are considered essential?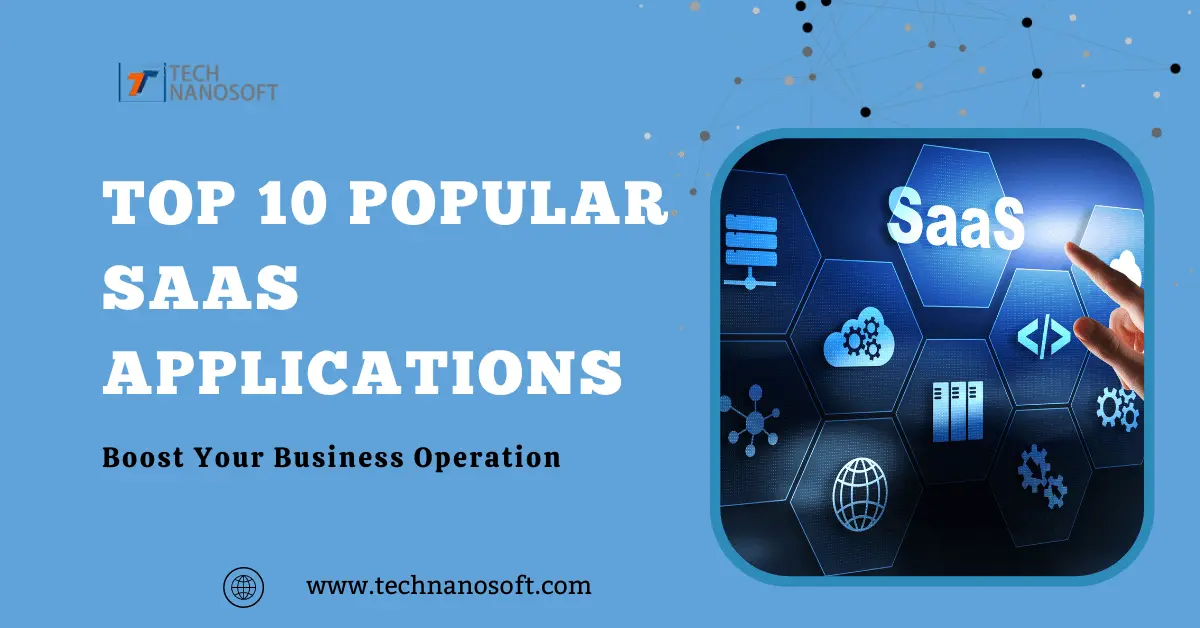 Nowadays, we are living in a digital era; even we cannot imagine our life without the internet. Today, small organizations or big businesses use software applications to grow their businesses, SaaS applications are one of these. Software as a Service (SaaS) applications have completely changed how firms conduct their operations in today's digital environment.
These cloud-based systems have many advantages, including affordability, scalability, and accessibility. Businesses must carefully select accurate SaaS tools from the plethora of possibilities available if they want to enhance their operations.
SaaS Applications – What Are They?
Software as a Service is referred to as SaaS. Applications are hosted by a provider and made accessible to users online in this style of software distribution. Users can access and utilize software through a web browser rather than installing it on individual PCs or servers.
In the SaaS model, the software provider manages the SaaS application security, infrastructure, and maintenance of the application, while users pay a subscription fee to access and use the software. This eliminates the need for businesses to invest in hardware, software licenses, and ongoing maintenance, making it a cost-effective solution for many organizations.
SaaS applications offer many benefits as compared to traditional software models:
1- Accessibility: SaaS applications are accessible from any device with an internet connection, allowing users to work remotely and collaborate effectively.
2- Scalability: Depending on user demands, the apps can easily scale up or down. As their needs change, businesses can easily add or delete user licenses or increase computing resources.
3- Budget-friendly: It eliminates the upfront costs associated with purchasing and maintaining software and hardware infrastructure. Users pay a recurring subscription fee, typically on a monthly or annual basis.
4- Updates and Maintenance: SaaS suppliers take care of software updates, security patches, and system upkeep, guaranteeing that consumers always have effortless access to the most recent edition of the programme.
5- SaaS Applications Integration: The applications often provide integrations with other tools and platforms, allowing businesses to streamline workflows and share data seamlessly between different systems.
6- Collaboration: A lot of SaaS apps provide collaboration capabilities that let groups of people work on projects together, exchange documents, and interact in real-time.
CRM systems, project management tools, accounting programmes, email marketing platforms, collaboration and communication tools, and productivity suites are a few typical examples of SaaS apps.
Businesses may concentrate on their core business activities while utilizing strong tools to increase productivity and efficiency thanks to SaaS applications, which provide a flexible, affordable, and user-friendly alternative for accessing and utilizing software applications.
What Are The Top 10 Popular SaaS Applications?
In recent years, SaaS (Software as a Service) applications have become popular and revolutionized how both organizations and people access and use the software.
As we have previously discussed Software as a Service is the full form of SaaS. It refers to a software delivery model where a provider hosts and manages an application or software system centrally and makes it available to customers over the Internet.
In a SaaS application, customers typically access the software through a web browser or a thin client interface without the need to install or maintain the software on their computers or servers. After SaaS application development, customers often pay for the service on a monthly or annual basis to use the software.
Users may concentrate on using the programme rather than administering it because the provider is in charge of maintaining the infrastructure, managing updates and upgrades, assuring security, and handling other technical elements.
SaaS applications are frequently multi-tenant, allowing several users to use the same resources and underlying infrastructure while maintaining the privacy and security of their data. Scalability, flexibility, and cost-effectiveness are made possible for both the supplier and the consumers' thanks to this shared infrastructure.
In this article, we will get aware of the top 10 popular SaaS applications that can drastically improve business operations and drive success.
1- Salesforce: Top customer relationship management (CRM) software, Salesforce, assists companies in streamlining their sales, marketing, and customer care procedures. It offers a centralized solution for handling data analytics, sales pipelines, and customer contacts. Businesses may use Salesforce to strengthen client connections, increase sales effectiveness, and spur revenue development.
2- Slack: Slack is a collaboration and communication tool that enables teams to communicate and collaborate in real-time. It provides capabilities including file sharing, instant chat, and platform integration. Slack facilitates team collaboration, boosts productivity, and streamlines corporate communication.
3- Zendesk: It is customer care software that enables companies to offer quick and specialized help to their clients. It provides ticketing, a knowledge base, live chat, and analytics tools that let firms quickly address client concerns and raise general client happiness.
4- HubSpot: An all-in-one inbound marketing and sales platform is HubSpot. It provides tools for lead generation, social media management, email marketing, content production, and customer relationship management. HubSpot offers useful information for marketing and sales optimization while assisting organizations in attracting, engaging, and converting leads into customers.
5- Dropbox: It is a cloud-based file-sharing and storage platform. It enables businesses to store, access, and share files securely across devices and with team members. Dropbox boosts productivity and ensures data integrity by providing collaborative tools, version control, and data backup.
6- QuickBooks Online: For small and medium-sized firms, financial administration is made simpler by cloud-based accounting software and QuickBooks Online is a cloud-based accounting software. It offers resources for tax preparation, financial reporting, spending monitoring, and invoicing. Accounting procedures are streamlined, accuracy is increased, and better financial decision-making is made possible through QuickBooks Online.
7- Asana: Asana is a SaaS project management software that assists teams to manage, track, and organize their work. It provides features such as progress tracking, team collaboration, project timelines, and task management. It enhances task delegation, promotes transparency, and improves overall project efficiency.
8- Mailchimp: A platform for email marketing called Mailchimp enables companies to design, automate, and monitor email campaigns. It provides audience segmentation, A/B testing, and campaign analytics in addition to email templates. Businesses can better connect with their target market, build brand recognition, and encourage consumer interaction using Mailchimp.
9- Google Workspace: Gmail, Google Drive, Google Docs, and Google Sheets are all part of the productivity tool known as Google Workspace (formerly known as G Suite). It allows for seamless document sharing, real-time editing, and allowing team members to work together. Communication, productivity, and information management are all improved with Google Workspace.
10- Monday.com: Monday.com is a flexible work operating system that centralizes and accelerates team operations. The application provides project boards, task management, automation, and integration features. Monday.com assists firms in maintaining office environments, increasing task visibility, and fostering teamwork.
Conclusion:
Choosing the perfect SaaS applications can amazingly boost business operations by improving productivity, streamlining processes, and boosting customer satisfaction. The most popular 10 SaaS applications mentioned above, including Salesforce, Slack, Zendesk, HubSpot, Dropbox, QuickBooks Online, Asana, Mailchimp, Google Workspace, and Monday.com, offer efficient systems to transform businesses and get success.
These applications are like powerful tools in the software industry. They offer suitable, affordable, and easily reachable solutions that cater to the evolving needs of people and businesses in today's age.
So what are you waiting for? Just go for it without any delay and reach your business goals.