Make Your Hiring Process Easier with Top Recruitment Software
In this modern world, chances are you must have at least heard of Cloud Computing, if not used it unknowingly. Cloud Computing is often referred to as internet-based computing, as the user can access their data anywhere, anytime, with internet access, instead of their computer's hard drive. A few examples of Cloud Computing are Amazon Web Services, Microsoft Azure, Google Cloud, Salesforce, and such applications. But what exactly are cloud computing resources? While the examples gave you some idea of what they do, Do you not wish to understand what else they offer, their characteristics that are considered essential?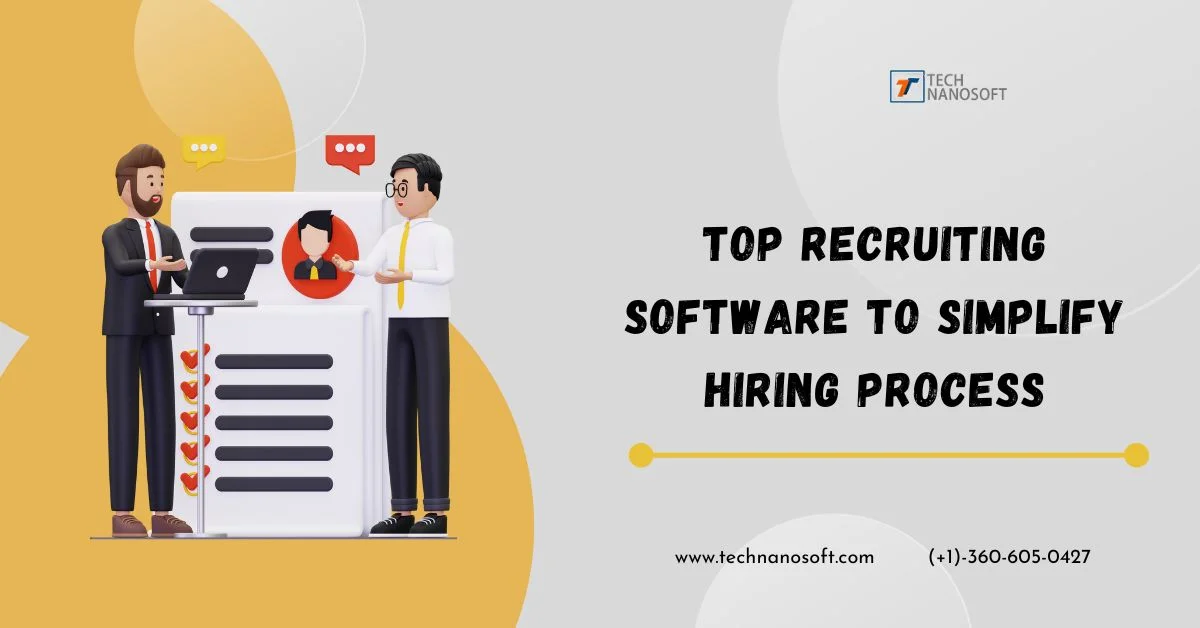 Many readers must have been recruited into their business today; those left must be who did the recruiting. The process is tiresome, and hours are spent overlooking applications and trying to find the perfect candidates with long-term processes like interviews and appointments. ! SO! Much work!
It would be so much easier if recruiting software existed. That would post jobs online, find capable candidates, and compel them, taking care of all the formalities beforehand. But they are. Many at that. A recruitment platform that helps organizations optimize the hiring process, from finding and attracting candidates to screening resumes and sending out offer letters. A system that automates the recruitment process - from posting jobs online to onboarding recruits- makes the process more efficient for recruitment and talent acquisition teams while providing a positive and memorable candidate experience.
What is A Recruitment Agency Software?

Recruitment agency software has only recruiting solutions that make the process more efficient for recruitment and talent acquisition teams while providing a positive and memorable candidate experience. Recruiting software is often called an applicant tracking system or ATS, though these two are different.
Online candidate management system helps to categorize applications as underqualified or overqualified, saving time and effort on their part and completing hours of work within minutes with the help of AI.
One innovative and affordable software development company is Technanosoft, which fits businesses of all sizes. They offer world-class development teams with years of experience, which makes clients confident in their skills and abilities. They ensure their clients get the best possible technology and support – regardless of the project size or complexity.
Types of Recruiting Software to Benefit Your Team
An online recruitment system comprises several elements, each of which is equally important. This software is used in every industry and every business these days to track, manage and communicate with many candidates and welcome them into the field.


1. (Human Resources) HR Recruiting Software
HR Recruitment Software focuses on finding, recruiting, and hiring individuals for the company. The Human Resource Department has many other responsibilities and keeps detailed information regarding employees and legal policies and procedures. Human Resources Management System (HRMS) reduces the time spent on repetitive and low-impact administration tasks. Thus, freeing the HR Department to focus on long-term strategic responsibilities.
2. Recruitment CRM Software
The management of building and maintaining a relationship with a rather large pool of candidates becomes straightforward and smooth by recruiting CRM software. A candidate relationship management software that allows you to manage all aspects of staffing and recruiting, including keeping a professional relationship.

3. Recruiting ATS Software
Applicant Tracking System (ATS) is software that helps companies organize and track candidates throughout recruiting and hiring. They allow businesses to collect information, organize prospects based on experience and skill set, and filter applicants. ATS has the biggest category in recruitment software.
4. AI Recruiting Software
AI recruiting uses artificial intelligence to help recruiters with predictive analysis during the hiring process. They automate time-consuming, repetitive tasks while offering personalization and data insights, such as identifying more qualified candidates and sourcing additional candidates, throughout the hiring process.
5. Recruiting Management Software
Recruitment Management System (RMS) is a set of tools designed to automate and manage your organization's recruiting and staffing operations - from posting your jobs to keeping applicants connected and engaged throughout the hiring process.
What is the Difference Between CRM and ATS?
Recruitment Software Products - CRM and ATS are software used to hire new candidates, playing pivotal roles in recruitment solutions and employee management.
CRM is a formidable segmentation tool that automatically promotes talent and provides both passive prospects and active job hunters with a compelling experience. On the other hand, the applicant tracking system (ATS) is software that recruiting administrators and recruiters use to streamline procedures and ensure compliance.
Simply put, a CRM and ATS are equally important in delivering the functionality needed to build quality talent relationships with less recruiter effort.
Conclusion
However, businesses that use recruiting software reduce pressure on their hiring managers, helping make the talent acquisition process more effective and efficient. Utilizing recruitment software also improves the candidate experience.