Class Payroll Software Services for Small Business Users - Streamline Your Payroll Process
In this modern world, chances are you must have at least heard of Cloud Computing, if not used it unknowingly. Cloud Computing is often referred to as internet-based computing, as the user can access their data anywhere, anytime, with internet access, instead of their computer's hard drive. A few examples of Cloud Computing are Amazon Web Services, Microsoft Azure, Google Cloud, Salesforce, and such applications. But what exactly are cloud computing resources? While the examples gave you some idea of what they do, Do you not wish to understand what else they offer, their characteristics that are considered essential?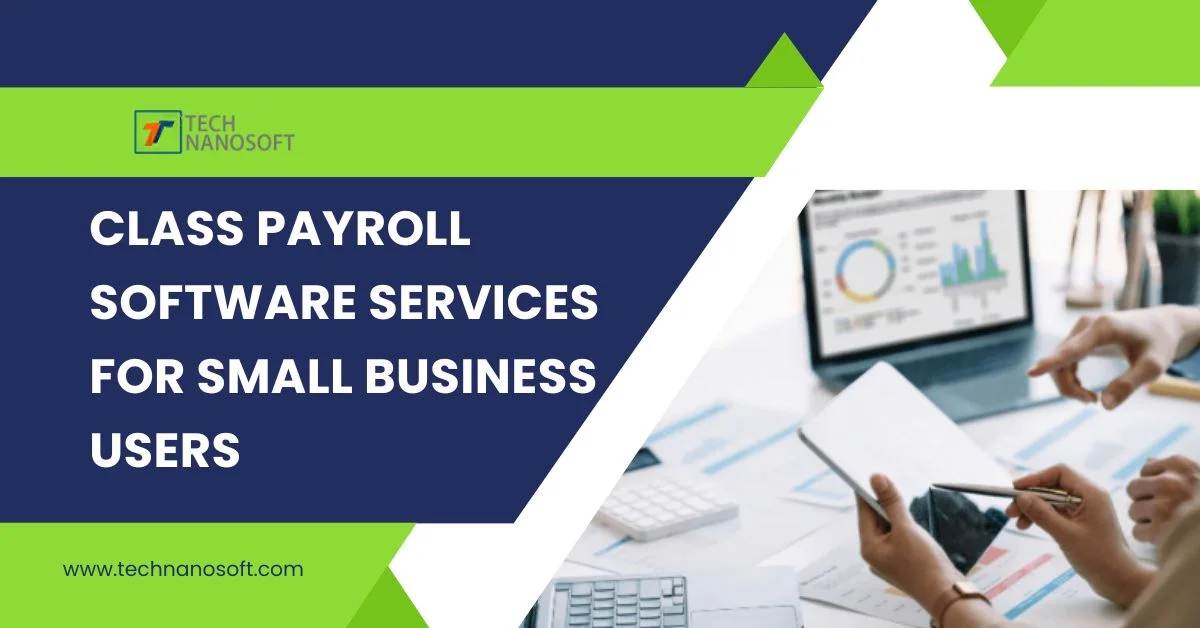 Introduction

Millions of firms rely on payroll systems to effectively manage and simplify their employee remuneration. Payroll software is a cloud-based solution that maintains, addresses, and automates employee payments. Manual payroll operations have many issues, such as more time consumption, errors in compensation, and reduced efficiency.
Payroll software is a must-have investment to reduce mistakes and enhance payroll processes. Consider several aspects while searching for payroll software.
How Online Payroll Software Services Can Save Small Businesses

It might be challenging to choose the best payroll software for small businesses. Finding the best option might be difficult because there are so many available. Fortunately, a few pointers and best practices will assist you in focusing your search and finally locating the appropriate software within your price range.
Millions of organizations rely on payroll systems to adequately manage and streamline their employees' compensation. Payroll software is a cloud-based solution that maintains, addresses, and automates employee payments.
However, many small companies don't invest in this payroll management software and perform it manually. Manual payroll operations have many issues, such as more time consumption, errors in compensation, and reduced efficiency. Investing in payroll software to mitigate these errors and improve your payroll operation is essential. If you are looking for payroll software, you should consider various factors.
Finding the right payroll software for your small business can be challenging. There are so many options it can take a lot of work to find the right one. Thankfully, some tips and best practices can help you narrow your search and ultimately find the right software in your budget. Here are six tips for finding the right payroll software services for your small business.
What is the purpose of the payroll system?
Generally, companies use payroll management software to organize their employee's salaries and tax filing tasks. It also provides accurate compensation, deductions, and rewards for employees. It also keeps records of employee pay rates, work hours, contracts, and assumptions. It saves a lot of space and time to store this information manually. This system integrates with the other core business systems. Most payroll companies offer software with many features, such as employee self-service, reporting, analytics, and more.
Benefits of Payroll Programs For Small Business
Payroll software services are some of the most resilient and prosperous programs to help you save money on employee costs and the time and resources required to operate your business. A well-funded payroll program can help your business thrive by providing employees with cash paychecks and benefits and increasing morale. Here are a few key benefits of having a payroll program for your small business:
It offers transparency as it integrates with other lines of business, such as accounting and finance. The openness of personal costs helps organizations to create timely reports, maintain budgets, and develop growth plans for the future.

Paying your employees is time-consuming and complicated, especially when your organization has shifting regulations, new hires, mergers, and acquisitions. However, payroll software ensures that all employees get the right salary on time. It helps you build trust between your company and your employees.

Payroll software is flexible to change. If your organization opens in a new region with different regulations and taxes, your payroll software will automatically incorporate the new rules.

With payroll software, your organization can save hours each month managing employee compensation compared to manual payroll operations. You can use that time for other critical business tasks.

Payroll software provides real-time information about the employee's performance in graphs and charts that executives can easily understand and use to make critical business decisions.
Final Word

In closing, small business payroll software services are an excellent option for businesses that need assistance with employee paychecks and tracking employee hours. With careful software selection and a good support team, small businesses can be confident that their payroll needs are being taken care of correctly and efficiently. These services can help you keep track of your finances and manage your payroll, making it easier and faster to process payments to your employees.